Consoling boredom at Airdrie's newest hot spot
When you walk through the doors of ¡Glitch! Gaming Lounge several things happen.
You are hit with bright and colourful graffiti-style murals covering the majority of the facility's walls. You smell that familiar spice radiating off homemade chili cheese fries prepared by a Red Seal chef.
Then you see all the games.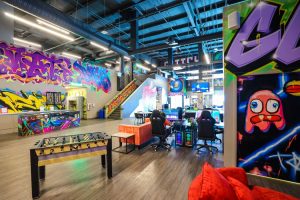 "We can tell when there is a new person coming in because they are just taken aback," says co-founder Tracy Wright.
"They kind of stop at the front door and are immediately overwhelmed by colour, and then we welcome them and give them the low down on everything we do. Parents, teens and children love it when they walk through those doors. We have something for everyone."
¡Glitch! Gaming Lounge is the brainchild of Wright and her sister, Lindsey Leicht.
The idea was to create a space where people could play a wide variety of games to celebrate special events or simply chill.
"Growing up I had most of the gaming consoles. So we were always into games," says Wright.
"One Christmas my sister and I took our families to a virtual reality gaming centre in Calgary. We just got to talking about how Airdrie needed something similar and how we could do it better. Next thing you know we were looking at properties, and here we are today."
A place to chill
¡Glitch! has 12 virtual reality stations (VR), private VIP gaming rooms, PC gaming stations, pool tables and an ever-growing arcade. Tables are also available for trading card games like Magic: The Gathering, Yu-Gi-Oh! and Pokémon.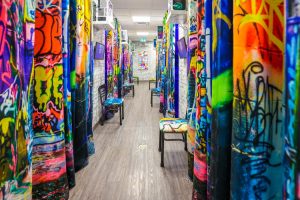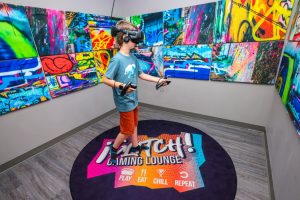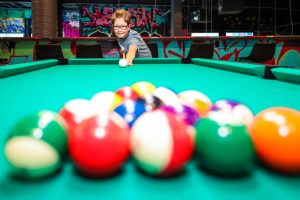 Wright says their virtual reality stations are the most popular. The gaming lounge offers more than 50 VR games and has memberships specifically for those stations.
"Gaming has gotten very popular in the past few years, especially virtual reality gaming. We have only been open a few months and we already have regular members," says Wright.
¡Glitch! also has plenty of plush lounging areas, and a licensed, full-service kitchen with many in-house made and gluten-friendly options.
The business opened in January 2022 in an 8,600-square-foot building in the southeast corner of Airdrie.
"We see families come in and the dad is like, 'Hey let me show you this,' or 'Here is a game I was really good at back in the day,' or 'Let me try this one and see if I can keep up.'" says Wright.
"Friendly competition. That's what we're all about."
More than hotdogs on rollers
When Wright's nephew moved to Airdrie, she discovered many teenagers didn't have a ton of places to go in the city.
She heard a typical hangout generally meant grabbing snacks at a 7-Eleven and hanging out in the parking lot "doing God knows what."
"So that's also part of the reason we opened ¡Glitch!," says Wright.
"We were kind of hoping to give youth and teenagers a place to go and de-stress, meet others and have fun with their friends in a safe and responsible way without having to drive into Calgary."
Since opening, ¡Glitch! has held teen dances, summer camps and has plans to host more programming in the fall and winter months.
Wright is hoping ¡Glitch! eventually becomes a hub for activities in Airdrie, perhaps hosting bachelor parties, team-building events, live music and movie nights.
"I think when people think of any typical gaming or hangout place, they think of crappy hotdogs on a roller and greasy game consoles," says Wright.
"While we do offer hotdogs, it's a bit of a step above. We want to bring the community together to hang out like back in the day. We're like a modern arcade."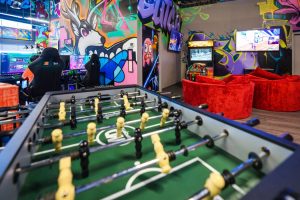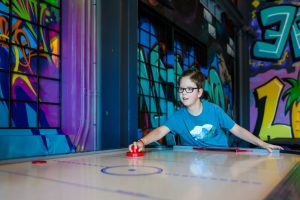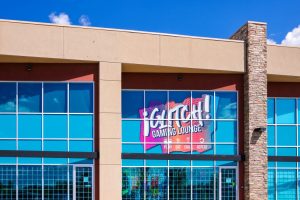 WANT TO GET YOUR GAME ON AT GLITCH?
JOIN THE A-LIST FOR YOUR CHANCE TO WIN A $50 GIFT CARD