Meet two Airdrie companies who are bringing their business to you with great success.
Fishing for empty bellies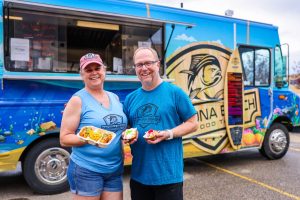 Lesley Stasiuk compares her food truck to something like a party in a parking lot.
She founded Daytona Beach Seafood Tacos as a way to get out and about in the community, while doing something she loves.
"My husband asked me to stop cooking because I was making him fat, and I said 'Okay, how about I start cooking for other people?" Stasiuk says.
"Airdrie has got lots of barbecue, poutine, mini donuts and burgers, but nobody really has any fresh seafood or tacos. So, I tested all my recipes on my kids and here we are."
Roving around Airdrie
Stasiuk takes pride in sourcing as many products as locally as she can. She works with local farms and businesses to develop new ideas for food items like incorporating freeze-dried strawberries for desserts.
All of her employees come from Airdrie, and she even hired a local artist to help design her truck.
"I love this community. There is so much creativity here, so I try and do my best to help support where I can and hope they support me as [well] when I'm roving around Airdrie," Stasiuk says.
Less red tape
Earlier this year the City of Airdrie passed a set of Land Use Bylaw amendments making it easier for mobile vendors like food trucks to operate in the city.
Where previously food trucks and other vendors were limited to certain locations, the city now has 12 districts where they can operate with less red tape.
"We have about 12 to 15 food trucks operating in Airdrie," says Airdrie economic officer Adena Malyk.
"So as long as they abide by a few regulations they can go and essentially park where they want."
Stasiuk says the updates will allow her more freedom to operate – especially during busy summers.
"I thought I had a good product, but I am just overwhelmed with the huge support from the people of Airdrie. Our hearts are so full, and we can just hope to help make your bellies full."
A home organizer that comes to you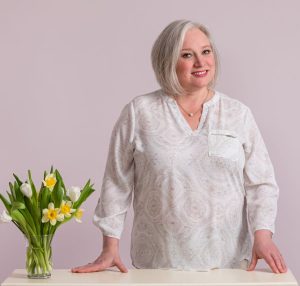 Cindi Banman remembers growing up in a very messy home.
It wasn't just a few dirty dishes laying in the sink; she recalls a clinically disorganized household that plagued her life.
"I didn't feel like I knew how to do anything. It wasn't until I started getting out of that I learned it didn't have to be that way," Banman says.
"I began learning some practices and philosophies around minimalism – that was a game changer. I was like, 'Oh this is how it is supposed to be. This feels good and is relatively easy. I can do this, and I would love to share this with other people.'"
As the owner of Genesis Professional Organizing, Banman now spends her days helping others tackle a small space or whole house. She goes to clients' homes to assess issue areas and offer up a fresh perspective.
A fresh start
Banman says the COVID-19 pandemic completely shifted the way people think about the spaces they live in.
"People say, 'If I just had a couple more weeks where I didn't have to work, I would get organized.' Well, 2020 has shown me that nope, that is not the problem – we are," says Banman.
"I am all about creating ease for people. It is possible to create a fresh start."
Ease in access
Airdrie Economic Development says consumers are looking for more ease in accessing products and services. Much like Genesis Professional Organizing, the city is seeing mobile dental hygienists and even mobile watch repair specialists.
"If you can bring your product or service to your consumer rather than your consumer coming to you – I think it makes it a little more enticing for the consumer," says Airdrie Economic Development officer Adena Malyk.
"I think it's almost the way of the future. It is an offering consumers are looking for more and more these days."
Banman agrees. With so many forced to face their homes during the COVID-19 pandemic, she has had steady work throughout the city since opening her business more than a year ago.
"There's no need to do things by yourself, and stress about it," says Banman,
"All you need to do is pick up the phone and poof, I am there to help whether you are home or not."