What's up with downtown?
We all know the lyrics to the hit song:
So go downtown
Things will be great when you're downtown
No finer place for sure, downtown
Everything's waiting for you
Downtown was first released by Petula Clark in 1964. In its 55-year history the song has been recorded on more than 90 albums by artists including Frank Sinatra, Dolly Parton, Jann Arden and, most recently in 2014, the cast of the hit show Glee.
Clearly, something about going downtown resonates with people. And it's more than the catchy tune.
In many, many places around the globe, downtowns are the economic, cultural and social heart of a community. It's no longer just nice to have a bustling and vibrant downtown full of shops, amenities and gathering spaces; there's a growing pool of research showing that downtowns are critical to the success of a city or region.
That's why Airdrie City Council has identified downtown revitalization as one of its six strategic priorities and Airdrie's Economic Strategy 2018-2028 has pointed to downtown as key in creating a sustainable economic future for our city. We need downtown to be a place that attracts visitors, entrepreneurs and the best talent to Airdrie.
Downtown transformation doesn't happen overnight. Proactive planning and collaborative effort is required involving a variety of groups – investors, businesses, local government, residents and community organizations.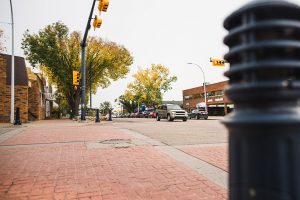 The City of Airdrie is leading the creation of a new Downtown Plan for Airdrie. Over the last two years, we asked residents and businesses what they envision for Airdrie's downtown.
This spring, a downtown design concept was presented to the community, reflecting the vision shared by those who live, work and do business here. Now, the City is writing the plan, which will include a long-term vision for downtown revitalization and an implementation plan to make it happen. That plan will be presented to city council near the end of this year.
Not unlike the famous song, there are many voices that will contribute to the long-standing success of this project. Airdrie has the chance to re-make our downtown. It's time to adjust the tune, liven up the chorus, add new voices to the mix, and then release it for the future generations to enjoy. Let's all sing from the same song sheet.
Sara Chamberlain is an economic development officer with Airdrie Economic Development. To learn more about Airdrie's Downtown Plan, visit airdrie.ca/downtown
Sara Chamberlain is an economic development officer with Airdrie Economic Development