The organizers of Boo at the Creek have decided to cancel the 2020 event due to the pandemic.
Boo at the Creek is a free, annual family friendly Halloween event at Nose Creek Park that includes games, crafts, music, candy and prizes.
"With the constant changes in restrictions around the number of people permitted at outdoor gatherings, alongside the directives from Albert Health Services regarding social distancing, hand sanitizing etc, we do not feel that we would be able to ensure the safety of participants due to the nature of the event," says Paige Cairns, event organizer.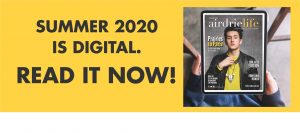 She adds that the event relies heavily on the support of local businesses to be successful and with the current state of the economy and the struggles that businesses have encountered due to the pandemic, organizers were worried they would not be able to get enough sponsorship to fund the event.
"​We are heartbroken about the decision," Cairns says, adding that this would have been the sixth year for the event.
"There has been so much disruption to people's lives as a result of the pandemic and children have been impacted in so many significant ways. The vision behind Boo at the Creek is to provide a free, safe environment for children of all socioeconomic statuses to enjoy the magic and excitement of Halloween, to bring together a sense of community as well as to raise money for the Airdrie Food Bank."
She adds the need to raise money and food for the food bank has never been higher under the current circumstances.
"We know how important this resource is for families at the best of times, let alone during a pandemic," she says.
"It is devastating to not be able to host Boo at the Creek, which in past years has brought over $9,000 in food and monetary donations to the Airdrie Food Bank."
Cairns adds she encourages residents to donate money and food items to the food bank during this difficult time.
She says, despite the disappointment about the cancellation of this year's event, organizers are planning to make the 2021 Boo at the Creek bigger and better than ever.
"We are longing to provide (families) with experiences that reinstate the joy and carefree spirit that our children deserve," she says.
For more information or updates, visit the Boo at the Creek Facebook page.
stacie@frogmediainc.ca