Nose Creek Valley Museum recently reopened their doors to visitors after being shut down for four months due to the COVID-19 pandemic.
"We feel very grateful to be able to open and offer our community something to do that is affordable and family friendly," said Laurie Harvey, curator of the museum.
"On a rainy day, on a hot day, on a 'I'm bored' kids' day – we are a great place to spend an hour or two. We are a place where families can visit without breaking the bank account."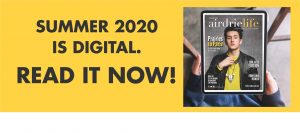 The museum has implemented a number of procedures and measures to ensure the safety of their staff, volunteers and visitors including:
Limited visitor numbers (maximum occupancy of six visitors at a time).
Timed admission to allow for capacity control and no-contact purchasing.
Encouraged physical distancing with signage, spacing 'dots,' and directional arrows.
Eliminating seating in gallery spaces.
Physical barriers such as Plexiglas shields at the front counter.
All hands-on, interactive elements have been closed to limit visitor contact in our galleries. The Walter Bushfield Annex has been closed until further notice.
Access to hand sanitizer.
Increased cleaning and disinfecting activities throughout our facility.
Staff and volunteers wear masks if they can't physical distance in the offices.
Harvey says the pandemic has drastically affected the museum's ability to bring in income as their largest revenue generator is their meeting room rentals, which they have had to cancel from March into the foreseeable future.
"We are now having to really look at our fundraising and try to figure out how we will proceed in the future," she adds.
The museum has changed the admission model for the time being and are asking for donations, instead of charging a set admission fee.
They ask visitors to book ahead of their visit. This can be done by phoning 403-948-6685 or emailing ncvm@telus.net.
"We are here, and we are a great and affordable place for our community to have some time together," says Harvey.
With displays on everything from wildlife, First Nation tools and weapons, military memorabilia, antique farm machinery and more, it is an interesting and educational experience that is like walking into a different time.
She adds that the museum plans to host an exhibit that celebrates the Airdrie Festival of Lights' 25-year anniversary in the fall.
The museum is open Tuesday and Wednesday 1 pm to 5 pm, Thursday 3 pm to 8 pm and Saturday by appointment.
For more information, click here.
stacie@frogmediainc.ca