Airdrie and area parents have recently made the seemingly impossible decision of whether to send their children back to in-class learning in schools or pursue homeschooling during the COVID-19 global pandemic.
This week, thousands of kids will be returning to in-class public or private school and many others will stay home and be taught by their parents, teachers, hired help or other family members.
Whatever the decision, one thing is certain – it wasn't an easy choice – with information on the plans to reduce the spread of the virus changing rapidly.
Here we speak with one mom who has decided to implement the Rocky View Schools Online Learning tool and another who will send her children back to class in schools.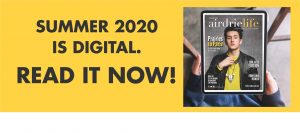 At-Home Learning
Tracy Belski and her husband Sergei decided to homeschool their seven-year-old son Oliver, who is going into Grade 2.
Oliver previously attended Ecole Edwards Elementary School and will be taking part in the Rocky View Schools Online Learning offering that involves teacher-led schooling in the home.
"We appreciate all the interventions that the schools are putting in place, but we realize how difficult this is to expect from a group of excited elementary-aged kids," says Belski.
"For us, this was a great compromise to stay within Rocky View Schools and have the support of teacher-led classes to assist with French Immersion, without having to commit to a full year, giving us the opportunity to re-asses in February once things settle down."
She adds that she has been keenly interested in at-home learning since Oliver was born and has followed many homeschooling sites online for the ideas on how to include learning into her family's everyday lives.
"We are fortunate to be able to consider online/homeschooling as an option for our family," she says.
"My husband and I both have flexible jobs that allow us to adjust our schedules and work from home in order to accommodate."
She says they did not take the decision lightly and considered a number of factors including the impact on their careers, methods of learning and retention, family health and wellness (both physical and mental) increased screen time and more.
"The spring online learning actually worked really well for our family," she says.
"Our son thrived with the one-on-one attention and direction from both of us as parents individually, and he came out with significant improvements in many of his core areas."
In-Class Learning
Amy Reinsborough and her husband John decided to send their daughter Sally back to in-class learning in Grade 1 at Windsong Heights School and her son to preschool at Munchkin Academy shortly after she learned that schools would reopen.
"We are both essential services workers and work outside of the home," says Reinsborough.
"We simply cannot work and teach our kids simultaneously."
She adds that her children's education would suffer as all of their teaching time would take place in the evening when children are tired.
Reinsborough says the social aspect of keeping her children in school with friends also played a huge factor in her decision.
"Our kids love being social and learning," she says.
"School may be different and there may be more restrictions, but our kids will still gain more by going to school. Educationally, it's the best decision for our kids and our family and for all of our mental health."
She adds that every parent has a reason for the decisions they make for their own kids and families.
"There is no wrong decision," she says.
"Do what you believe to be best for your kids and it will be the right choice. Stay positive and adjust if you need to. We all want the best for our kids and families. You may not make the same decision as another parent and that's OK. You may be able to broaden their perspectives and vice versa by being respectful and knowing that there are many situations to consider."
Whether at home or in a classroom, we at airdrielife wish all students a happy and safe start to the school year!
stacie@frogmediainc.ca