Photo caption: The Prospect team welcomes job seekers to the Chestermere Job Fair earlier this year.
If you're looking for a job in Airdrie right now, you've got lots of options.
That's the good news from the folks at Prospect Human Services, the non-profit organization behind the Airdrie Job Fair being held Wednesday, September 21, from 3 to 6 p.m. at the Town and Country Centre. There's no need to register and no cost to attend – just show up with your resume.
Prospect has been helping people get jobs in Airdrie for more than 20 years, says Wendy Smith, Program Manager. "We offer a variety of services including resume support, interview skills, career planning, workshops, hiring events, job fairs, support to employers and in some locations, art-based essential skills training."
Prospect has offices in seven locations around the province, including Airdrie, Calgary, Cochrane, Edmonton and Strathmore. Their services are funded through contracts with the Provincial and Federal governments for specific programs and services, as well as through various foundations, corporate and individual donors.
"In Airdrie," says Smith, "we offer one-on-one career advising to help people create resumes and cover letters, to find jobs, to plan their careers, to successfully apply to jobs that use applicant tracking systems, and to perform their best in job interviews. We are in contact with many employers in Airdrie and the surrounding area and know the local labour market thoroughly."
The Airdrie office also offers an Employment Resource Centre where people can access computers, Wi-Fi, a printer, and a fax machine for all their employment needs. These services are all offered free of charge and walk-ins are welcome.
The 2022 Job Fair is the first live event in a couple of years, due to Covid 19, and promises to be an exiting bounce-back event with hundreds of job seekers expected and more than 25 participating employers who are actively hiring, including:
Harmony Beef
Matrix Labour Leasing Ltd.
Urban Life Solutions
Volker Stevin Canafa
Taco Time/La Diperie
Lakeshore Manor
Popeyes Louisiana Kitchen
GardaWorld Protective Services
FedEx Ground
Magnum Services
Saputo Dairy Productions Canada GO
Good Life Fitness
Amazon
Rocky View Schools
McDonald's
Walmart Distribution Centre
"We are proud of our job fairs as the only employers attending are those who are actively hiring," says Jennifer Dost, Workforce Advisor with Prospect. "We have a waitlist of employers this year, and we will have a job board at the entrance of the job fair for candidates to see positions from employers who could not attend.
"We are still getting the positions from the employers but the positions we know will be available so far are as follows: Servers, Cashiers, Bartenders, Dishwashers, Prep Cooks, Line Cook, Sous Chef, Table games dealer, Poker Dealer, Craps Dealer, Security Guards, Surveillance Operator, Slots Attendant, Count room attendant, Guest Service Ambassador, Managers, Customer Service, Warehouse workers, Forklift Operator, Administrative Assistants, Stockers, Health Care Aides, Nurses and many, many more."
The advantage of attending a job fair is that they offer the opportunity for a guaranteed interview. There's no on-line application process that you never get a response from. You get the chance to sit down face-to-face with potential employers in real time.
"A job fair is an excellent way for job seekers to get in front of employers and to show their strengths in ways that may not be demonstrated on their resumes. We encourage job seekers to attend with copies of their resumes and to be able to speak to employers about their skills and availability," says Smith.
"There are a lot of jobs!" says Dost. "It is certainly a job seeker's market. With the labour shortage, there is an opportunity for candidates who are interested in moving into new roles with new companies. Employers often have to be firm on the technical skills, however, now they can be more flexible on the soft skills, or amount of experience required for a position."
Meanwhile, the folks at Prospect aren't the only people working on a local employment strategy. The City of Airdrie Economic Development department is always on the lookout to bring new businesses to town that will provide jobs for willing and able Airdronians.
"Job creation and economic growth are related," says Adena Malyk, Economic Development Officer with the City. "The goal is about fostering an economic ecosystem that creates jobs, supports the community and helps balance our tax base, so that residents can continue to enjoy a high quality of life in Airdrie. Businesses need employees, talented ones. Talented individuals want to live in great places. And communities need businesses."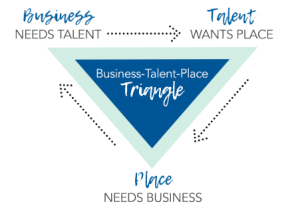 To that end, the City adopted an official 10-year Economic Strategy in 2018 and is proactively working on investment attraction, says Malyk, noting there were 345 new Airdrie-based business licenses issued this year as of August 31.
"The availability of skilled labour was identified as a priority amongst our business community in the lastest business survey we conducted earlier this year. Anecdotally, we have been hearing from the business community, much like everywhere else, about the challenges they are experiencing to find and retain workers."
Recognizing the challenges faced by many new businesses, the City officially launched their AdvanceSMART program on September 13.
AdvanceSMART is a new mentorship program for Airdrie entrepreneurs who are experiencing high growth that matches a business with a team of three to four mentors who provide guidance on developing growth strategies, tackling complex challenges (including staffing) and becoming a better business leader.
The new mentorship program was partially funded through the Government of Alberta Community and Regional Economic Support (CARES) program and will receive operational support from Community Futures Centre West. AdvanceSMART will compliment Airdrie's successful entrepreneurial training program, SMARTstart, which is launching its tenth intake in 2023.
"We've seen the incredible impact of mentorship on new businesses through our SMARTstart program and we heard from our community that they wanted more," says Jessica Williamson, Economic Development Officer with the City of Airdrie. "We're extremely excited to provide that same opportunity to support high growth businesses in our city with the help of a talented pool of volunteer mentors."
There are many informal ways for job seekers and employers to come together also. For example, although the Airdrie Chamber of Commerce doesn't offer any official employment workshops or hiring events, literally dozens of local business owners and managers are in attendance at every event they hold – from luncheons to golf tournaments – making them a perfect opportunity for some informal networking.
Of course, there are a variety of general and industry-specific job boards to check out, including Indeed, which, at time of writing, had more than 600 Airdrie jobs listed. Granted, not all are full time and not all put you in the six-figure income range, but if you're looking for a job in Airdrie these days, there's plenty of reason to smile.