"I have a neverending love for music and exploring new horizons and exploring new talent"
You may have seen him performing at Bambino's, or Sorso, or Cowboys, but Airdrie's Nevin Mark Matheson is more than just a talented musician – music is his life.
"I'm blessed to have a gift I can share with other people, but it's not something I have on my mind to become big. I do it as a passion."
Born in Saskatoon, Matheson has lived most of his life in Airdrie, where he cut his musical teeth with the likes of Steve Jevne and Christian Hudson.
"There are lots of excellent musicians in Airdrie," he says. "This is where I got my start. My longtime friends are here, this is where my connections are."
Matheson comes from a musical family. His mother, Sharon Matheson, has been featured in airdrielife and has had a long and successful career as a professional vocalist. His brother and sister also work in the music industry and provide feedback on his projects.
"It's in my blood," he explains. "My family has always been supportive."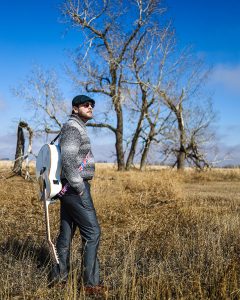 Matheson is a skilled guitarist, but his voice is his true instrument. He commands the notes he sings, bending them to the whims of his musical passions, scatting, rapping and crooning with an ease that is sometimes reminiscent of Michael Bublé and at other times of the masterful jazz vocals of Sting.
"I don't commit myself to one genre. All music is great. I like to broaden my horizons."
His song, Dangerous Love, which can be found on his Facebook page, is stylistically progressive rock, but he also enjoys performing a cover of the Ed Sheeran and Andrea Bocelli song Perfect – singing it in Italian no less.
"It's great to be able to do something like that; explore a side of my voice I didn't know was there."
Matheson is the owner of Top Notch Entertainment, a booking agency and a vehicle for connecting with up-and-coming musical talent, many from Airdrie.
"That's my biggest thing, to give younger musicians a chance."
Top Notch acts like a co-operative, pooling resources and introducing his clients to the industry connections Matheson has fostered over the years.
"It's not about making money; it's inspirational watching these musicians bloom, especially from such a small city," he adds.
Although he plans to have an EP out soon, Matheson's dream is larger than his own gifts.
"I have a neverending love for music and exploring new horizons and exploring new talent."