OFF LEASH DOG PARK SEMINAR
What You Should Know If you're Gonna Go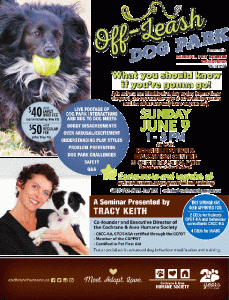 Cochrane, AB – The Cochrane & Area Humane Society (CAHS) is offering an informative community seminar on the many elements of off leash parks on June 9, 2019 from 1 p.m. to 5 p.m. presented by Tracy Keith, CAHS' co-founder, executive director and head of CAHS' behaviour department.
Participants will gain a solid understanding of what the effects on a dog can be by exposing them to a dog park environment.  Presented with live video footage, the seminar will focus on safety, when and where one is most likely to run into challenges and how to handle and manage those challenges to prepare pets for the best dog park experience.  It will also offer understanding on which dogs may or may not be good candidates for the dog park.
The goal is to help reduce reactivity in dogs caused by inappropriate interactions at off leash dog parks and to help keep dogs and people safe while in the dog park environment.  Participants will learn how to read and monitor dog body language and when and how to safely interrupt dog interactions.  The seminar will also focus on the benefits of a solid recall and strong name attention achieved through positive reinforcement training and the pitfalls of using punishment at the dog park, in training, and in general.  Through a solid understanding of canine play styles, what an appropriate dog to dog meet looks like vs. a rude greeting, off leash parks can continue to be a place of social enjoyment for animals and owners.
The cost is $50 with an early bird price of $40 until May 15.  This seminar, which will be held in the CAHS Rehabilitation & Education Centre, 62 Griffin Industrial Point in Cochrane, Alta. is valuable for all dog owners and has also been approved for 2 CEUs for trainers CPDT-KA and behaviour consultants CBCC-KA and 4 CEUs for IAABC.  Registrations can be made online at http://www.cochranehumane.ca/off-leash-dog-park-what-you-should-know-if-youre-gonna-go/.  The seminar is proudly sponsored by Global Pet Foods Cochrane.
After over 20 years of experience working with every dog type and personality, Keith offers community seminars to continue CAHS' mission of saving and changing lives in and out of the shelter, which begins with educating to grow a culture of animal compassion and understanding.
"Opening up the lines of communication between pets and their people seals the human/animal bond," says Keith.
"It all begins with using positive reinforcement science based training techniques and becoming proficient at reading canine body language.  People who have dogs and go to off leash parks should understand what the dogs are saying to each other and also understand the benefits and disadvantages of visiting public dog parks.  I created this seminar to help people be the best they can be in parks and to set their dogs up for success at every visit."
Founded in 1998, CAHS leads and inspires communities to value and treat animals with respect while participating in initiatives that reduce indifference towards, suffering of and overpopulation of animals.  CAHS relies on community generosity through monetary donations and volunteers.  Giving back, through various forms of education, is a major part of CAHS' success.
Available for interviews: Tracy Keith w: 403-932-2072 ext 102, c: 403-689-5524 email: executive.director@cochranehumane.ca.  Keith is a Certified Behaviour Consultant Canine – Knowledge Assessed (CBCC-KA) (CCPDT) and a Certified Pet Dog Trainer – Knowledge & Skills Assessed (CPDT-KSA), both through the CCPDT.  She holds a Professional Membership with the Canadian Association of Professional Pet Dog Trainers and is certified in Pet First Aid.