Vegetarian lifestyles are becoming more prevalent around the world; yes, even in Alberta. In the land of beef and oil you risk saying anything negative against both of these well-established industries.
Regardless, many are turning their tail on meat products whether for health concerns or ethical standards regarding animals. But we won't be arguing the benefits or downfalls of one or the other here, just talking good food.
Finding meatless cuisine in small-city Alberta is akin to spotting Bigfoot – I saw something but wasn't quite sure what it was. But bear with me, there are some vegetarian nuggets to be mined in our growing community; even fast-food chains are jumping on the plant-based wagon.
There's a plethora of meat-and-cheese substitute products on the market, with many doing a fine job of replicating the taste and texture of the previously mentioned, higher-fat products. Some restaurants are taking notice while others have traditionally gravitated towards plant diets.
So whether it's a 2022 resolution, a change of diet for health concerns, a meatless Monday challenge, or just a basic need for trying something new, let's peel off that "I Heart Alberta Beef" bumper sticker and go for a ride on the local vegetarian restaurant scene.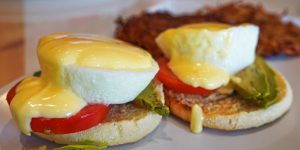 Jam's Airdrie
The most important meal of the day (according to the self-promoting marketing slogan from Dr. John Harvey Kellogg) can also be the most flavourful for veggie lovers. Eggs, while off the menu for vegans, offer a source of protein and essential nutrients for veggie lovers.
Jam's Airdrie, pronouncing itself as a breakfast spot, quickly comes to mind for the first meal of the day. This quaint, friendly eatery elevates brunch with several white-shell dishes including an Eggs Benedict. This favourite classic dish can be ordered several different ways, all smothered in Hollandaise sauce.
They haven't forgotten the meatless version, massaging this desired brunch dish with delightful slices of avocado and tomato sitting atop an English muffin. And, no yoke, the softly poached eggs flood the plate with golden goodness and are accompanied by endless hashbrowns for those who want to get their potato fix.
A veggie sandwich and hungry man scrambler also fit the vegetarian diet, as do the pancakes or French toast for the sweet, carbohydrate enthusiasts.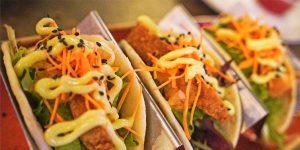 Sorso Lounge
With several local beers on tap and a wall of spirits decorating a mountainous, rustic, wood-laden bar, Sorso Lounge may look like a tavern sporting typical bar food.
But this modest, upbeat gem of a joint cooks up plenty of tasty temptations for the veggie lover.
Some shareable and local favourites include an herby goat-cheese bruschetta, hummus cauliflower, vegetarian crab cakes, tempura mushrooms, sweet-chili edamame, mac and cheese, ravioli fungi (mushroom), gnocchi marinara and an Impossible burger.
Tofu tacos put a spicy twist on this traditional Mexican fare.
Three little soft-shell bundles are stuffed with fresh greens, avocado, shredded carrots, pineapple banana pepper salsa, and topped with a sprinkle of black sesame and spicy wasabi mayo leaving a warm, tingly afterglow on the palette.
But the king of the dish is a breaded, fried Asian tofu. Replicating the form of a breaded chicken, this veggie delight produces a crunchy outside and soft inside making for a pleasurable, texture-filled combination, an avenue where many tofu dishes fail.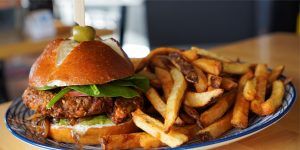 Abe's Modern Diner
There's something about a diner that invokes that faint, retro-style, small-town feeling of days gone by. Add in a portion of great food and you have Abe's Modern Diner.
This busy little corner bistro, dazzling bright with plenty of sunlight, is a burger and breakfast joint specializing in handheld happiness.
While they promote plenty of beef on the menu, Abe's also provides a Vegan Veggie burger for the plant-loving chewers.
No beyond or impossible here, this is a pure veggie patty with chucks of peas, carrots and other goodies. Crispy outside with a satisfyingly soft interior, the veggie patty produces a light, easy-going-down burger, with no animal fat clumping into a heavy ball of digestion.
It's topped off with fresh spinach, peppers, grilled mushrooms, caramelized onions, tomato and guacamole all on a vegan pretzel bun.
If that doesn't fit the bill, Abe's will substitute the veggie patty with any burger on the menu.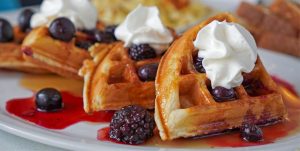 Suzanna's Airdrie
Tucked away in downtown Airdrie just off Main Street, Suzanna's is a tiny cafe that can be easily missed.
Six booths and a few small bistro tables, this isn't the largest breakfast/lunch location in town, but as they say, nice things come in small packages.
While there's plenty of wake-up options, with a small but tantalizing menu offering plenty of meat options, they also offer a vegetarian omelette and breakfast waffles.
Bordering on breakfast and dessert – it's not just for after supper anymore – I don't waver much on the waffles. A delight for the eyes as well as the taste buds, these little triangle-shaped morsels are combined with maple syrup, whipped cream and a bevy of berries.
Pockets of syrup and juice from blackberries, blueberries and strawberries provide a nice sweetness but hover just this side of savoury to fit into the brunch category.
The vegetarian omelette unites fluffy, light-as-a-cloud eggs with bell peppers, mushrooms, onions and cheese for a melt-in-your-mouth texture.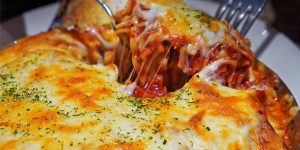 Cheryl's Country Kitchen
If roast beef, Sunday turkey dinners and mounds of food summon thoughts of a country kitchen, you wouldn't be wrong.
With plenty of comfort food brimming across the menu, Cheryl's Country Kitchen placates the need for a home-cooked meal. And while asking where's the beef will get a plethora of answers, the vegetarian won't be ignored.
Among the meatless contributions are stuffed mushrooms, mozzarella sticks, bruschetta, onion rings, yam fries and a vegetarian lasagna.
Fitting nicely under the relaxing, homemade-restaurant theme, this traditional Italian serving boasts chunks of sautéed mushrooms and peppers layered in tender noodles, spinach and cottage cheese.
A sweet and savoury homemade tomato sauce ties it all together in a hot metal dish and a thick layer of melted mozzarella cheese browned to perfection tops this treasure.
Foreshadowing the possibilities of leftovers, the lasagna is accompanied by a takeaway container, even before the asking. Extra points if you can eat the whole thing.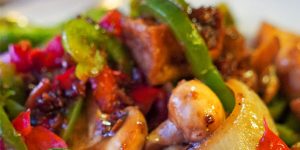 Thai Charm Eatery
Thai Charm Eatery has been, well, charming my taste buds since opening their front doors to authentic Thai and Chinese cuisine.
Beyond a multitude of Chinese-style dishes, this amiable outlet hosts some of the best traditional Thai curries and stir fries around.
Their spicy specials can be massaged from mild-to-hot with a rainbow of green, red and yellow curries and accompanying protein choices, including a vegetarian tofu option.
The yellow Thai curry, slightly different from East Indian dishes, uses lemongrass for a sweet-with-a-little-bit-of-heat zest. The silky broth encompasses golden nuggets of vegetables, with healthy chunks of broccoli, mushrooms, onions, pepper and deep-fried tofu.
While totally gratifying – like I could eat this five times a week – a basil stir fry complements this course with a house-roasted chili paste and plenty of vegetables swimming in a well-balanced sweet, zesty brown broth.
A jasmine coconut rice helps soak up this goodness, leaving a pleasant warmth on the tongue.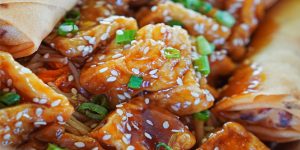 Oodle Noodle
Another restaurant willing to adapt to the meatless connoisseur is the relatively new Oodle Noodle.
This good-food-fast Main Street eatery sports plenty of room for a quick lunch, supper or take-home dinner.
Some Eastern Orient staples, such as green onion cakes, vegetarian spring rolls and Vietnamese salad rolls are intertwined within a menu of noodle-and-rice based dishes.
Served in stacked-to-the-brim boxes, the Vegan Kung Pao integrates chow mein noodles snaking through a nest of shredded carrots, celery, cabbage, onions, broccoli and deep-fried tofu.
Stemming from South Vietnam, the Bun Cha Gio fashioned much the same taste but with vegetarian spring rolls and a signature Oodle Noodle sauce.
Made to order, most of Oodle Noodle's menu can easily be adapted to a meatless protein diet but for the true herbivorous, this noodle house also presents a dedicated vegetarian and vegan menu section.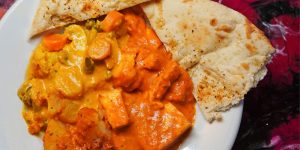 Tandoori Hut
From the land of Indian street food and the sacred cow, you'd expect to find plenty of plant-based sustenance options.
A Kingsview Market treasure, the Tandoori Hut restaurant promotes a gluten-free, vegetarian/vegan dining experience to suit any dietary restrictions. Named for the Tandoor clay oven cookery popular throughout India and the world, their preparation serves up scrumptious traditional sauces.
The Vegetable Korma composes peas, carrots, green beans and potatoes drowning in an orange, rich pistachio-and-cashew-based sauce. If you're going to drown, this is the way to go. No meat required here.
Another delicacy is the Shai Paneer which combines a smooth-as-silk Indian cheese in a sweet-and-heat butter chicken sauce – picture the sweet warm glow of sitting in front of a fireplace at -32 C. Flakes of herbs and spices complete this orange-coloured saucy wonder.
Just enough spice to clear the nasal passages, there's plenty more on the Tandoori Hut menu to get your veggie on. Of course, no East Indian meal is complete without a good helping of coconut rice and steamy, buttery naan bread.