Kyle McKearney is no stranger to the music industry. This Airdrie-based Métis musician comes from a long line of country and bluegrass singer-songwriters.
"My dad and my grandparents all played, so I grew up around it. I was actually born on the road; my dad was a bass and banjo player for the East Coast Riders."
McKearney, who is married and has two sons, says it was a fun way to grow up and is why he brings his family with him. His wife, Sarah, is a singer in his band, which makes touring as a family possible.
"I remember how much fun it was as a kid, and I just want to give them that experience, but I wouldn't do this without Sarah."
McKearney is a singer-songwriter in the Americana musical genre, which blends elements of country, roots-rock, folk, R&B, blues and bluegrass. He and his band — McKearney on guitar and vocals, Sarah on vocals, Russell Broom on guitar, Mitch Jay on multiple instruments, Lisa Jacobs on bass, and Ben Bradley on drums — stylishly mix storytelling and songs of the heart into their videos and recordings reminiscent of the genre's Drive-By Truckers and Jason Isbell.
It's McKearney's catchy melodies and singable lyrics, and the effortless way he delivers them, that distinguishes him as a songwriter with heart. Even if you're not a fan of Americana, the group's skilled musicianship and honest emotion make you want to see and hear more.
There's an obvious joy in what he does, and it's this love of making music that has guided McKearney's career. He's been in the industry for more than 16 years and has played in numerous bands and venues from Fort St. John to Nashville to Las Vegas. He has a successful solo album, earned YYC Music and Country Music Alberta nominations, has co-written a song with Queen's Roger Taylor, and recorded a series of cover songs that have hundreds of thousands of views on social media. And that's just a few highlights from his impressive career. He also recently earned second place in the Project WILD competition.
Run by Alberta Music and Calgary's WILD 95.3 FM, Project WILD is a country artist development program.
"It's a really cool thing. I learned a lot about the industry, even though I've done a lot in the industry — but I haven't done everything."
McKearney appreciated that there were top-notch industry people who, as part of the run up to the finale, consulted with the contestants on vocals, styling, performance and other aspects of the craft.
His win also came with a $75,000 cheque.
"It was fun. There were a lot of great artists in this program; it never felt like a competition. Winning the money was great, but musicians just want to make records and that's where this will go."
His first solo album, Down-Home, co-produced with bandmate Russell Broom, was released in 2021. The eight-song album came together after a six-month tour in 2019 playing guitar with the Queen-inspired musical We Will Rock You. The experience gave McKearney a taste of all the things he had worked for and hoped to accomplish.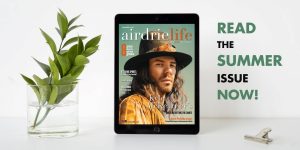 "We were on the big buses, the swanky hotels, and had our gear set up for us. If 14-year-old me had been in the audience watching me play guitar at Madison Square Garden, he would have been like, 'Wow, that's amazing, you really did something.'"
However, by this time he had a family, and his goals were changing.
"I was gone for six months. I missed my kids. I wanted to go home."
The songs on Down-Home, such as Sweet Summer Rain and Keepin' it Simple, are a reflection on the things he had been feeling for some time.
"They're a bunch of songs about being home and looking at what's really important in life."
The financial boost from Project WILD is helping McKearney release a second album that he's been recording at Calgary's OCL Studios. Broom is co-producing on this one as well. They'll tease their fans with a single release every few months until January of 2023, when they'll drop the full album at a launch party.
The first single is called Grandfather, and like Down-Home, the songs on the as-yet-untitled album come from McKearney's personal experiences.
"But there's some fun stuff; I like the fun. I like to have a good time, and I like writing about that."
Last fall, McKearney signed with Livestar Entertainment Canada, a leading talent booking agency, which promises to bring more concert dates and opportunities, but his focus has not changed.
"The dream is just to keep going, to keep making records and playing shows. If I can afford to support my family making music, that would be the dream for me."