"For me, it is all about the chance to express myself through my food"
Moudie Baroud is passionate about food and the fare at his new restaurant, Moody's Mediterranean, proves it.
An Airdrie resident since 2001, Baroud has worked in Calgary and area restaurants for more than 15 years.
He has owned a number of franchises with his family, but he always knew that his goal was to own a restaurant where the food was fresh, healthy and made before the customer's eyes.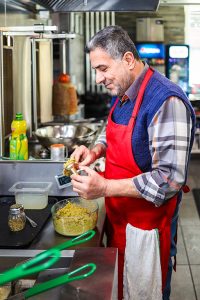 "I saw a better way to provide food to the community," he says while sitting in a bright red booth in his recently opened restaurant, located in the Cooper's Crossing Promenade.
"We wanted to stay local and support local while giving the community diverse foods to enjoy and the opportunity to learn about other cultures."
Baroud did not enter into owning a restaurant lightly. In fact, the concept was born after six years of extensive research including travelling to Mediterranean countries like Spain, France, Greece, Italy, Turkey and Lebanon.
"I learned about the food, methods of cooking, flavour profiles and spices they use. It took a while to perfect the concept, but it was well worth it," he says.
The effort paid off. I speak with Baroud about food, culture and community involvement while sipping a delicious Turkish coffee, after my family and I celebrate my husband's birthday with a wonderful Moody's meal.
As we're served by Baroud's friendly father Radwan, it's immediately apparent that the food speaks for itself. My husband has the chicken pita wrap, I have the lamb and our children (ages four and two) share an order of fries and calamari. We also try the falafel and have baklava for dessert.
The pitas pack a punch of spicy taste with a flavour profile that is incredible. The lamb is some of the most flavourful I have ever had (including the meals I enjoyed in Greece on our honeymoon).
The calamari are delightful and win over both my extremely picky daughter and not-so-picky son. The fries stand apart from other local establishments as they are seasoned with a selection of spices that make them tasty enough to eat without dip; although you would be crazy not to dunk them in the amazing and tangy tzatziki sauce that accompanies the meals.
The falafel is crisp on the outside and fluffy on the inside and pairs perfectly with the hummus, olive oil and pickled items that come with it. The baklava is a sweet and tasty conclusion to the meal, especially when paired with the complimentary Turkish coffee.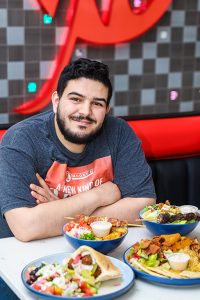 You can taste the freshness and appreciate the fact that food is prepped three times each day in the open-concept kitchen, which allows customers to see Baroud and his staff cook their meal to-order.
"For me, it is all about the chance to express myself through my food," says Baroud.
"I want the people who come here to feel like they are going to a family member's house. We aren't here to say, 'Give us your money and here's your food, now get out.' It's about the experience."
He adds that the restaurant partners with many local companies for its ingredients, including a Calgary bakery that provides all of its bread.
"We want to be involved with the community and give back. Airdrie is known for being community-oriented and supporting each other and we were the recipients of that generosity firsthand back in 2009 when we had a house fire. The community came together and wanted to take us in and help us and it was unbelievable. We want to provide that for other people."