"My life just came into weaving, and that's pretty much all I do"
In an old farmhouse north of Airdrie, Bonnie Datta weaves colourful streams of yarn into soft handwoven items. 
Weaving is more than just a hobby for Datta; she works up to eight hours a day designing complex patterns and preparing her three looms for the rhythmic task of shuttling thread back and forth. 
"It's something that you do only because you love it," she admits.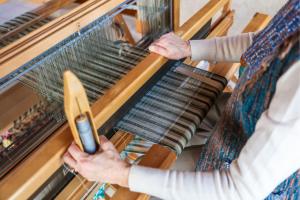 Datta's family moved to the area in 1954 where she still lives in the original family home. 
After completing a B.A. in mathematics at the University of Calgary, and a M.Sc. in mathematics at the University of Rhode Island, she worked for 20 years in the computer industry. 
However, Datta's real passion continually wove its demands into her life.  
"Every spare moment was a weaving thing." 
She laughs about it now, but says there was often a struggle between having enough time or enough money to put into it. 
Weaving and math are similar, Datta says. In weaving, there are threads to be counted, lengths to determined and proportions to be worked out, and like math, you can explore its limits. 
She also likens it to cooking.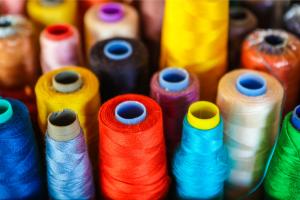 "There's recipe-weaving just like there's recipe-cooking. Then there's going beyond the recipe and understanding what you can change and where you can break the rules."  
For instance, she routinely makes her warps (the tensioned, vertical threads on the loom) long enough for two woven items.  
"As I work through the first piece, I noodle away for how I might tweak it for the second one. When it's finished … you'd never know they were from the same pattern." 
Datta uses locally sourced alpaca and sheep wools, preferring to leave them in their natural colours, though she will occasionally use dyed yarn. 
"These," she explains, pointing to several shawls and scarves with patterns in the natural wool's earth tones, "will hold their colour for years." 
Datta's love for textiles came from her grandmother who taught her embroidery, but weaving appealed to her mathematical mind. 
In the early 1990s, Datta partly retired, bought a 30-foot travel trailer, modified the bedroom to fit a loom, and hit the road with her dog. 
"For seven years I lived in that travel trailer," she recalls.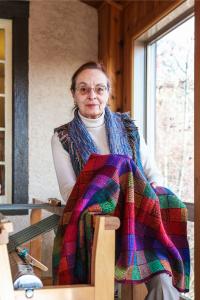 She drove around Canada and the U.S., studying and taking courses in weaving, eventually teaching in places like California, New York and Calgary. 
"I really enjoyed it. I called myself the 'itinerate weaver,'" she laughs. 
It wasn't until she fully retired in 1995 that Datta plunged full time into her craft. 
"My life just came into weaving, and that's pretty much all I do." 
Datta has a website with her inventory, but self-marketing has never been her strength. 
"Selling yourself takes time away from what you love." 
Besides, she adds, weaving is a work of love for her. 
"A piece that takes a week to make will get me $250. There's just not an appreciation for handwoven fabric." 
"It's like a hand-caught fish," she laughs. "Does it taste better? 
"Some people think so." 
Visit crocuscorner.com to see more of Datta's work