"When I'm flying, I see the shadow of my plane far beneath me, and I feel how small I really am. When I'm painting, my endorphins are running, I'm in the zone. It's inspiring."
Airdrie's Dan Morvillo loves flying; it's something he has dreamed of since he was a child.
He loves creating art almost as much, and both passions have had a profound pull on his life, but it would be years before either dream became a reality.
"I loved both drawing and flying. My parents wanted me to go into academics," this 55-year-old father and husband recalls. "For me, I was joining the Air Force and becoming a pilot or a mechanic."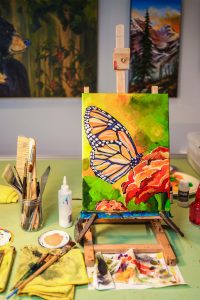 He did become an aircraft mechanic, eventually serving in the military for more than two decades where the dream of obtaining a pilot's license and working as an artist began to take shape.
"All of my artwork started in the military," he says.
Morvillo was married and well into his career with the first of three children when the government announced cutbacks. This pushed him to perfect his artistic skills.
"I thought if the military lays me off, I would have something to fall back on."
He wasn't laid off, but the two passions began to merge, showing up in his early pen and inks of military aircraft, which he sold as cards and on commission.
When he retired, he took advantage of an Armed Forces program that earned him a pilot's license.
"I had to do it; it was a lifelong dream. Years of working on aircraft and I never got to fly them. It was agonizing, like scratching your nails on a chalkboard."
Morvillo and his family made Airdrie home in the mid 2000s, but it wasn't until 2015 that he began painting with acrylics.
"It was something I had never done before. I was afraid of colour."
However, his bold use of lively colours and expressive brush strokes shows no hint of this fear.
One of Morvillo's first colour works, Forest Sunrise, is a scene familiar to any hiker. In the foreground is the murky darkness of a trail captured in the early hours of morning. The background is magical; the rising sun, hidden behind a copse of trees, sets the mystical morning mist aflame. You can almost hear the worshipful songs of robins greeting the new day.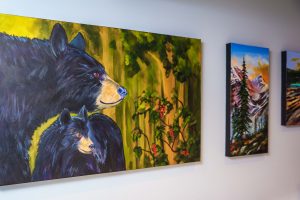 Other paintings, Mount Rundle, The Three Sisters, and Athabasca Falls for instance, carry the same powerful weight of inspiration and wonder at nature. They are emotions Morvillo feels both when he's in the air and creating art.
"When I'm flying, I see the shadow of my plane far beneath me, and I feel how small I really am. When I'm painting, my endorphins are running, I'm in the zone. It's inspiring."
Morvillo is self-taught, though he did attend high school at Wexford Collegiate School for the Arts in Ontario, but his style and skill are always evolving.
"I don't think you can ever stay the same. You're always being affected by what you experience."
He pulls his inspiration from everywhere. A flower in his backyard, a bent tree at his workplace, a raven he saw in Glacier National Park, images on the Internet; or he just lets his imagination shape the scene.
"The paintings tell me what they need," he says. "Sometimes I'll watch a painting and I'll go, 'It needs this or that,' and I'll call it a day and if I come back tomorrow and it's still saying the same thing, I'll make the change."
Morvillo works as a health and safety officer, owns a Cessna, and sells his artwork online and in various stores, but he has yet to fulfill his dream of being a full-time artist.
"That would be something; flying during the day, painting at night."