"By staying true to Ferraro roots, our home is in our heart"
The atmosphere
There's something about going to a restaurant and connecting with the owners that elevates the dining experience and ensures you are going to be back.
That feeling of connection is immediate when you walk into Ferraro Truly Italian restaurant, located in the Best Western Hotel on Edmonton Trail.
The clean, simple and upscale decor is something you don't see in many restaurants in Airdrie. The restaurant lives up to its reputation as Airdrie's new date-night spot with romantic lighting and the fact that most tables are set for two.
Another thing that is immediately apparent from just a glance at the menu is the fact that this is real, authentic Italian food that is made from scratch with passion, tradition and creativity.
"Ferraro hospitality is in the details," according to the website ferrarofresh.com
"It is an ensemble of gestures that define a way of life. The table is where your journey begins. Chef Emanuele's culinary cuisine is a cohesion of ideas, techniques and cultures. By staying true to Ferraro roots, our home is in our heart – we welcome you to our home!"
The story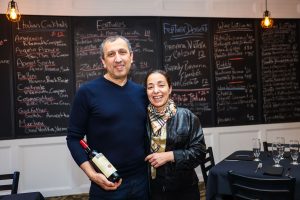 Emanuele Ferraro and his wife Nyla opened the restaurant nine months ago. Their son, daughter and daughter's son also work at the family-run establishment.
"It is imported straight from Italy and it is why when you eat our pasta, you feel satisfied but never too full. It's not like the heavy wheat pasta most places use."
Semolina flour is made from durum wheat and has a high gluten and protein content but don't worry, all pastas on Ferraro's menu can be made gluten free for $6.
According to the website, perfecting the gluten-free pastas offered on the menu took Emanuele more than two years.
The family also takes great pride in locally sourcing the other ingredients for their dishes including beef, chicken and mushrooms and you can taste the difference.
The food
My husband Matt and I jumped at the chance to spend a rare kid-free date night at Ferrraro.
We started with a glass each of the Montepulciano d'Abruzzo. It was a pleasant highly aromatic red with earthy notes and hints of blackberries. Although the wine menu (which is written on a wall-sized chalk board at the front of the restaurant along with the specials) lists only style and not wineries, we asked Dominic for his recommendation and were not let down.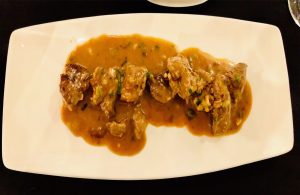 To start, we ordered a special called spezzatino di mignonettes, AAA beef tenderloin bites in a brandy cream sauce that were as flavourful and melt-in-your-mouth as they sound.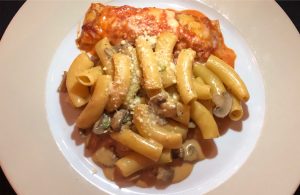 For our mains, I tried the duo di pasta, which included baked cannelloni and mushroom ziti in a cream sauce.
The cannelloni was meat-forward with a perfect combination of fresh pasta sauce and cheese, while the ziti offered an earthy and hearty flavour. Both paired wonderfully with the wine.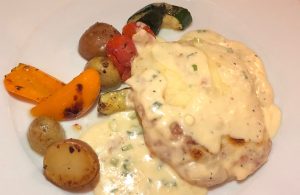 Matt opted for the pollo Bolognese, breaded chicken breast, topped with prosciutto fior di latte, with cream sauce and vegetables. The veggies were fresh and vibrant and the chicken was tender and juicy, pairing perfectly with the salty bite of the prosciutto and creamy sauce to pull it all together.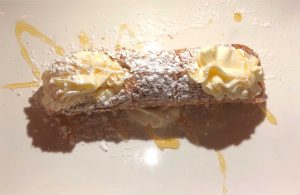 We topped it off with what Dominic promised was the "best cannoli west of Montreal" and a brandy banana flambe with gelato and, once again, our expectations were met and surpassed.
Both were some of the best desserts my husband and I have had in recent memory, with the cannoli offering the perfect juxtaposition of crunch and fresh cream.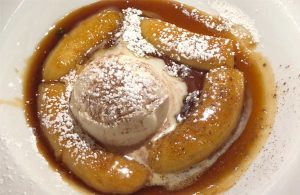 The banana flambe was warm and rich and had a roast caramel flavour that made you want to lick the plate.
According to the restaurant's website, part of the Ferraro philosophy is to introduce your palate to new and exciting flavours – mission accomplished!