We did a shout out to local artists to submit their work so we could showcase them in this issue. We were overwhelmed by the response and while only 10 artists are showcased here, there are more than 50 on our web page: airdrievirtualartmarket.com
This page was created to give artists a place to promote themselves for free, so visit and discover a new piece for your home because we believe that supporting local artists who create original works of art is a much better investment than thumbing through the decor bin at the big box stores.
Olam Quach is a 15 year-old self-taught artist who loves drawing portraits.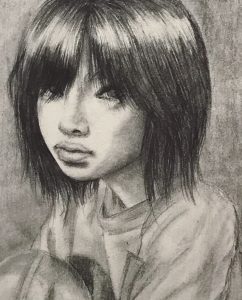 Find her work: @Artbyolamquach on Instagram
Keith Gorham was a tile setter all his life. He now creates art out of ceramic tiles.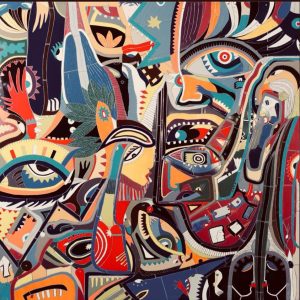 Reach him at bnkprofiles@hotmail.com
Chelsea Dickson  drawing and illustration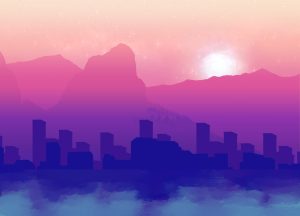 Twitter.com/BrandedSeastar
Jenn Rasmussen is a painter who created this piece Ascent with alcohol inks on Yupo.

Find her art: @Jeney76 on instagram
Josie Hoisington
"I have dabbled in lots of different mediums including pencil work, acrylic painting and clay. These days I'm obsessed with mixed media art, collage and watercolour painting. Art has always been a huge part of my life – it has given me the space to celebrate, rest, grieve and honour. I believe art has the power to enhance our well-being; to heal and inspire."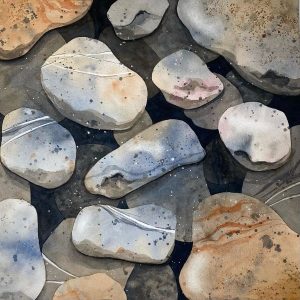 Find her art: @Josie.hoisington.art on instagram
Jaime MacDonald
"Since I was little I've been drawn to, and loved to draw, animals of any and all sizes. As a curious, shy kid, the appeal was twofold. Animals were different in infinitely magical ways. Even more so, and especially with horses and dogs, there was something pure about earning the trust of an animal that pulled me in. I'm still hooked.
"Emotions are a big inspiration of my work. I find the purity of animals a powerful vehicle to express them, which is why animals tend to be the subject of what I paint. I aim to capture those emotions in the pieces, and even better if they bring out 'the feels' for you, too.
"I work with acrylic on canvas, pencil, and play with gouache and charcoal occasionally too. You'd find commissioned pieces of my work living their best lives with wonderful collectors in Alberta, B.C., and as far away as Newfoundland and even England. How fascinating art is, to think that by combining a simple piece of cloth with a bunch of shapes, colours and brushstrokes, it could create joy for someone I have never met, 7,000 kilometres away.
Find her art: @jaimemacdonaldart on Instagram
Cherie Skibinsky
"My colourful art captures those memories of discovery that our little people experience. I specifically paint figures without showcasing the face as I love the candid quality this gives each painting."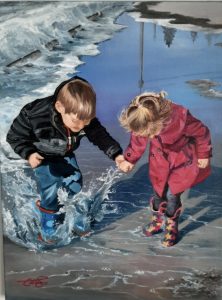 Find her art: Cherieskibinsky.com
Darcy Jessen
"I consider myself a new artist, still learning and experimenting with a variety of mediums and subjects. From portraits, to landscape to abstract art, I find the journey fulfilling and love getting lost in the process."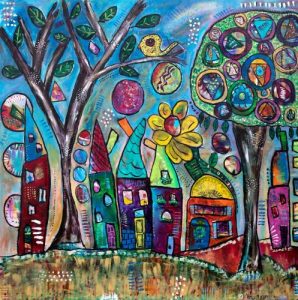 Find her art: @simplytoenjoy on Facebook
Riley JB
"I use the Victoria-era wet plate collodion technique to create heirloom portraits on thin sheets of metal known as tintypes. Using chemistry I mix myself, I turn a metal plate into a custom piece of film. It is loaded into a 100-year-old camera and an exposure is made. The plate must be developed before it can dry, hence the 'wet' in wet plate. After development the milky blue negative ethereally inverses in the fixer bath to reveal the final image. Finally, it is varnished using the exact formula from 1852. The tintype literally will last generations."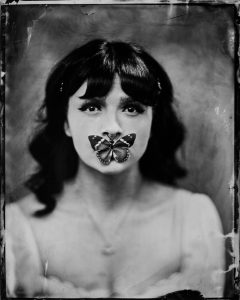 Find his art: Tintype.ca
Angela Stone
Angela Stone is a self-taught artist who enjoys depicting wildlife and landscapes in coloured pencils and acrylic paint. Currently based in Airdrie, Angela has lived in three provinces and travelled Canada coast to coast, drawing inspiration from the incredible natural beauty of this country, and its inhabitants.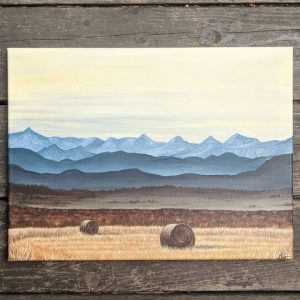 Find her art: Angleastonefineart on Instagram