Western Canada's largest, free, outdoor walk-through Christmas Light Display is back for its 27th season December 1-31 from 6-9 p.m. each evening at Nose Creek Park.
"The Board of Directors, and all our volunteer are so excited to be opening for our 27th season, as we continue celebrating family traditions!" says Airdrie Festival of Lights Society (AFOLS) Coordinator Michelle Pirzek.
"The past two years were full of challenges, however, we did it!"  "And we know the following years will have their own unique challenges for many families and visitors, which is why we're so proud to continue offering this family friendly, but more importantly, this budget friendly event for all to enjoy."
AFOLS is a non-profit, volunteer-run organization, allowing them to keep this event affordable for everyone. There are no entry fees, but cash donations are gratefully accepted (the suggested contribution is $10-$20 per family}, with proceeds paying for general maintenance and upkeep of the displays. As always, a portion of these proceeds also go back into the community in the form of donations to local non-profit and youth groups.
In addition to the incredible light display featuring more than $1 million worth of bulbs there are a number of activities going on throughout each evening.
"We have no idea how many actual bulbs there are," says Prizek, laughing. "We keep losing count."
The Airdrie Festival of Lights, offers three miniature riding trains and two separate walking paths to enjoy the lights from a different perspective.  It's a fun way for visitors of all ages to see the displays, including your four-legged friends too!  Tickets can be purchased in advance at the Train Station for $2 each. Children under two ride for free with an adult.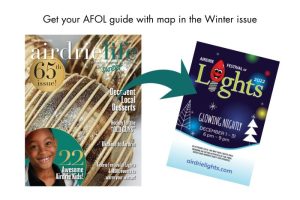 Santa's Gift Shop is a unique area where you'll find high quality, and whimsical gifts for yourself, your family, and your friends. We've even got the kids covered with our unique Kids' Only Shopping experience, also located within Santa's Gift Shop, with everything for sale under $10.  Our elves will help your little ones learn the true spirit of Christmas is giving!
Community Links is also back this year, providing Kids Activities in the comfort of a heated tent on December 6, 10, 13, 17, 20 from 6:30 – 8:30 p.m.  It's the perfect way to warm up and have fun at the same time before heading back outdoors.
Grab a cup of hot chocolate, coffee or hot apple cider at the concession and head for the fire pits to warm up, or even bring your own marshmallows and sticks.
And, of course, the big highlight is Santa himself, visiting from 7-8 p.m. on December 6, 10, 13, 15, 17, 20, 21 plus a special visit on December 23 when you can also meet his reindeer!
If you'd like to help out, AFOLS is always in need of volunteers, says Pirzek.  "All it takes is one three-and-a-half hour shift to make a difference in your community."