"I think it's that much more valuable when you do make a connection with someone, because, I mean, it's such a huge thing they're giving you"
---
Tony Timmons didn't hesitate last year when he saw the opportunity to make an impact in the life of Ryan McLennan, who was suffering from chronic kidney disease.
McLennan was on consistent dialysis after surgery in February 2018, which decreased his quality of life. McLennan's mother had already donated his first transplanted kidney when his failed in 2003, and after asking friends and family for the second time, with no matches found, they broadened their search.
"We were really looking for a miracle," says McLennan.
Soon they met their miracle.
When McLennan's kidney was infected and failing in February 2018, he and his wife Shakina purchased space on 27 billboards across Calgary in search of a suitable donor.
Then Timmons, who lives about 15 minutes away from the McLennans' Hidden Valley home, saw a billboard about their kidney donor search on his way to work as a driver for FedEx.
He was compelled to do something, and talked with his wife, Lisa, about it. She was tentative at first, but after a couple days of research and the realization Timmons would live with one kidney, she got on board. So Timmons dove in with both feet.
"His mother's story was pretty compelling to me," says the 47-year-old Airdrian. "That she gave him a kidney, and she was basically asking if anyone else could because she can't anymore. Once she said that, it was pretty heartbreaking."
Timmons then prayed to God and said, "If it's meant to be, I'll go all the way."
A coworker of McLennan, who is a mechanics and auto body teacher at Father Lacombe High School in Calgary, shared the news Timmons was testing negative, meaning he was close to being proven a compatible donor.
"I basically said that's impossible," recalls McLennan.
He didn't put too much hope in the possibility of Timmons making it through all the tests given by the Living Donor Program, which took about seven months, as about 50 others had applied and failed but weren't found compatible. McLennan was also in a national donor search affiliated with The Chronic Kidney Disease Program, but had no luck there.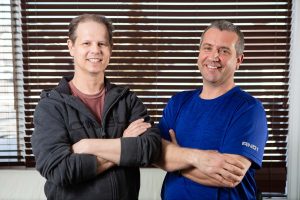 If Timmons didn't pan out, McLennan was weary of his doctor's estimation of spending eight to 10 years on peritoneal dialysis nightly at home before finding a donor.
By Nov. 28, 2018, the two were taken into surgery in Foothills Hospital.
Timmons says he never had second thoughts. Even when he was asked if he was sure one last time before surgery, he said, "Are you kidding me, with these tests, I ain't backing out now."
"I'd do it all over again in a heartbeat," says Timmons. "I think that's why God gave us two – you don't need two of them."
"It was a miracle that it worked out," says McLennan.
"I still get up every day, and I'm just so grateful and thankful that I'm not connected to a machine," says McLennan. "It almost feels like a different life. It feels like years ago I was on the machine."
He's also grateful for the new friendship with Timmons.
"I think it's that much more valuable when you do make a connection with someone, because, I mean, it's such a huge thing they're giving you," says McLennan. "Especially when you're older and you realize this person is basically giving you another life, another chance."
In the spirit of giving back, McLennan and Shakina have maintained the Facebook page Find A Kidney For Ryan Mclennan.
"We're trying to match up a few people right now," he says, noting they want to guide others through the medical system.
Recovery
Timmons returned to work on June 1.
He's been doing some stretches to help himself recover, and payments from short-term disability have helped reduce the loss of his wage for him and Lisa.
The duo and their wives chose pickleball as their sport over the summer, and spent some vacation time together.
"Everything's going great," says Timmons. "We're almost like best friends nowadays. It's pretty cool."
It was going so great in fact that his boss at FedEx nominated him for an award. Timmons received a humanitarian award from FedEx, along with five nights in Memphis and $1,000.
"I had no idea I'd be doing that, but it felt really good," says Timmons, noting it was "really emotional" to share his story on stage.
He maintains his confidence that "If I had another, I'd do it again," and encourages others to donate their kidneys.
Meanwhile, McLennan was teaching half time from September until the end of October, when he picked up his full workload.
"My energy is just through the roof," says McLennan. "It's just incredible the results I'm seeing."
He's thankful for Timmons and others who came forward to help.
"Before I was basically a workaholic, and now I've really learned to slow things down and be more grateful," says McLennan.
Timmons doesn't understand why people don't donate.
"There's no difference besides a scar; who cares about that?" he asks. "If you were on that side of the equation, you'd be waiting, counting on someone to do it for you…
"There's a whole floor of people down there in the hospital that [are] waiting for a kidney. How hard is it for someone to get up to bat and do it?"