It was the early '90s and Mike Pirie was hooked on informational docudrama Rescue 911.
There was something about the way host William Shatner described how police, firefighters and ordinary people responded to real-life 911 calls.
Pirie knew that was what he wanted to do.
"I actually was a paramedic first; eventually I became an advanced care paramedic and I did a practicum with Airdrie Emergency Services," says Pirie.
"I remember I worked in the Main Street fire hall and between watching that show and being in that environment I was instantly hooked on the concept of fire and medicine together."
Over the years, Pirie would progress through the ranks before becoming Airdrie's newest fire chief in a late-April ceremony in 2022. He replaced Kevin Weinberger, who was Airdrie's fire chief for nearly 11 years.
"It took two days to sink in," says Pirie when he found out he got the top job.
"It's a big achievement. The role of the fire chief is really the coach and the mentor. You set the standard, the pace and the ideal for everybody. I have always said if I do my job properly, if I have taught you well – you should be able to add your own value and move the department forward."
Airdrie links
In 1996 Pirie joined the Calgary Fire Department as a paramedic firefighter.
He would return to Airdrie in 1999 as a platoon captain, eventually becoming platoon chief.
He joined the management team of the Airdrie Fire Department in 2020 as assistant deputy chief of operations. That same year, he also received a Governor General of Canada medal for exemplary service in fire services.
But, he says, his greatest accomplishment is raising two of the greatest children you could ever ask for – and leading a growing team of people in Airdrie.
"Over the years I saw [Airdrie] go from being a heavily volunteer-based service with an ambulance system through to a full-time career fire department," says Pirie.
"I moved here when we were 14,000 people and now we are well over 70,000. Oh boy, the demand for service has absolutely skyrocketed."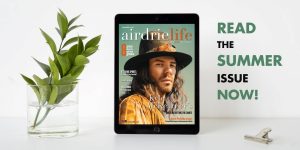 Growing demand
In 2021, Pirie says the Airdrie Fire Department received 2,019 calls for service. As of March 2022, he says the department is already seeing a 13 per cent increase in calls.
Pirie says he's looking forward to tackling the challenges of growth – even though it's frustrating sometimes.
"The need for this service is dramatically higher. Not only the demand for call volume, but for the services that we offer. There's more depth of service, more depth of knowledge needed," Pirie says.
"But we always figure it out. That's what I love. I love our motivated, energetic and creative people we have here, and I look forward to sharing my ideas."
Future plans
As fire chief, Pirie has a set of guiding principles he hopes to bring to the department.
He wants staff to feel empowered to make their own decisions instead of going through a bureaucratic process. He also wants to be fully transparent in what the department does.
"When we do a good job, we should say we do a good job. When we don't do a good job, we should learn and do better," Pirie says.
He also believes in a strong culture of training.
"The fire department exists to serve the people who call us for service." says Pirie.
"When we train well, we perform well. That will be evident as we move forward. We already have a strong team, but I will continue to reinforce those guiding principles and Airdrie will see those benefits."