Similar to its moniker, Extreme flag football may sound intense, but this version of the North American game is built to safely introduce youngsters to the pleasure of the pigskin.
Decked out in protective helmets, shoulder and lower-body pads, and colourful jerseys, football-loving kids and parents are looking to this rendition of the gridiron sport for their athletic conquests.
While injuries can occur in any sport, flag football poses two risks: contact when hitting the ground, or incidental player collisions while chasing flags or running a passing route, says Nolan Rohl, Airdrie Minor Football program director.
"In Extreme flag because they're in equipment; it reduces the actual injury risk with bumping helmets or shoulder pads. Even if they hit the ground, they have full protection. The risk in tackle football typical comes from the actual tackling," Rohl adds.
"Parents are very comfortable with the kids making that transition (to Extreme) realizing that 99 per cent of contact in football is not the tackling it's actually the blocking."
After their inaugural season startup in 2021, Extreme has already added two editions in 2022 starting in April and adding a fall season beginning in August. Originally open to players 8-10 years, another league for those aged 11-13 has been added and future versions for 14-16 years are anticipated.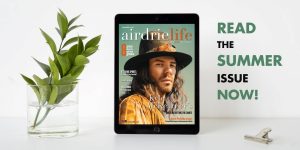 Utilizing modified rules, Extreme is played on a narrower field with smaller-roster teams of 12-14 players. They've incorporated a zone, passive blocking concept relying on obstructive contact lessening incidental damage.
"You don't have any big kids running over the small kids; they're preventing them from moving," says Rohl. "They may get a little bump or bruise but they're not going to break anything."
What began as a somewhat gap filler between non-equipment Airdrie Football Society flag football and Airdrie Minor tackle football, Extreme is growing in popularity with players easily moving back and forth from the three leagues.
Apart from camaraderie, competition, group organization and just plain fun, coaches introduce players to terminology, playbooks, communication, positional play, open-field running and passing routes. These confidence-building skills are promoted to help those possibly looking to move onto minor football.
Ultimately Rohl says the goal is to give every child an opportunity for more play and a chance to experience every aspect of the game from offence to defence and different positions.
"If they don't play we don't get any improvement and we haven't done them a justice on our end as coaches," say Rohl of the pass-first, excitement-filled game.
"We're really trying to grow football as a staple here. If we can do it well at a young age we set them for success and they're going to love and enjoy the game."