"I feel like the theatre is a place for misfit toys where everyone is a bit weird, but we are all different and we can just be weird together and figure out who we are"
As a shy and quiet child, who spent most of her time at the library, Kim Cheel never thought she would be an award-winning actor, playwright and accomplished teacher. 
"I feel like the theatre is a place for misfit toys where everyone is a bit weird, but we are all different and we can just be weird together and figure out who we are," she says. "It's about making space for people to be who they are, while pretending to be someone else." 
Recognition 
Cheel was recently recognized for her role in theatre when she took home the award for Outstanding Performance at the Foothills Zone One–Act Festival for her one-woman show titled Cleaning for the Prime Minister and Other Delusions. 
"I felt extremely validated to get that award," she says. "For me, I really wasn't expecting much. It was more than I could have ever imagined." 
The nostalgic play that focuses on Cheel's childhood years is a compilation of personal stories including elements of life that have lasting effects and make a person who they grow up to be. 
"We imagine a lot when we're young. Sometimes we imagine that we're in a fantasy land. Sometimes we imagine we're going to get a visit from someone famous. This show talks about the delusions we turn to for safety," she says. 
Cheel performed the show at the Town and Country Centre on June 27 to a standing ovation and was once again thrilled by the fact that her personal story resonated with so many people. 
Karen MacDonald, Cheel's friend and collaborator on a number of community projects, says she is proud of Cheel for putting herself out there.   
"The play is amazing and shows her vulnerability and she also added some of her humour to balance it out," she says.  
"She really is quite the comedian. This play gives you a little insight to who Kim is."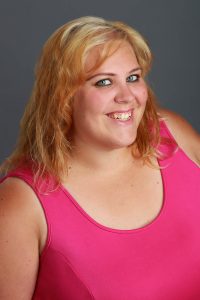 On Acting 
Cheel describes one of her most transformative acting experiences as at the Common Ground Festival at the Pumphouse Theatre in Calgary (June 27-30), where she portrayed a woman of colour in What Comes After. 
"It was interesting for me as a white woman. It was a very powerful piece of storytelling that is not what you see in social media and the news reports. It was powerful and transformative because the woman I was portraying came to the show on the last night and to hear her breath catch when I was using my voice to tell her story was incredible." 
Cheel says one of the most unexpected things she has had to deal with as an actor happened last summer when she was a street theatre actor at Heritage Park. 
"I had my skirt fall down on the one day I wasn't wearing a petticoat!" she says with a laugh. 
"I just had to catch it with one hand and finish the scene. In my experience, when something unexpected like that happens, you just have to own it." 
Made for the Stage 
Cheel has also been sharing her talents and creativity with children through an acting program at Bert Church Theatre for the past eight years.  
"I never thought I wanted to teach but something I have learned is: you don't truly know something until you can explain it to someone else," she says, adding that the class is broken up into three acts.  
Act 1 is for children ages seven to 10, Act 2 is for ages 11 to 16 and this year, the program will add a third advanced acting class that provides a continuum of theatre experiences for young actors who are looking to improve their acting skills.  
The program is more about teaching children life skills, says Cheel, than just acting classes. 
"It is about teaching them how to have a presence and find their confidence and understand how non-verbal movement comes into play," she says. 
Last semester, Cheel had her students write and perform their own play. 
"I'm sure all the kids who have attended her classes have learned a lot from her," says MacDonald. 
"She supports diversity, inclusion and expressing oneself. I think she gets as much out of teaching as the kids get out of learning."