WOW! We really grew this feature for 2024 and no wonder, since Airdrie is just filled with awesome kids. (Did you know that, since we started six years ago, our total tally is 140 Awesome Kids?)
The pages of airdrielife celebrate an annual record of 35 Awesome Airdrie Kids, nominated by teachers, family and coaches. Meeting these kids and learning their stories is one of the highlights of our year here at airdrielife. We hope you enjoy reading about them and feel good knowing Airdrie's future is in good hands! A special thank you to our awesome sponsors who helped us throw an awesome party for the kids and their families in January at Lil Betta Swim Club.
Awesome shout-outs to Volunteer Airdrie, Blessingsway Family Wellness and Superior Hearing. And a special thank you to Vitreous Glass for donating $50 for each child to pay-it-forward to the charity of their choice.
Check out all 35 Awesome Airdrie Kids below!
AMELIA WILLIAMS, 10 (Nominated by Melissa Lower, former teacher)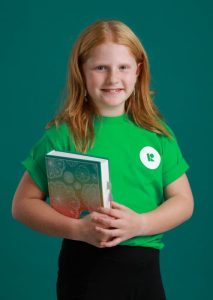 I am writing to nominate Amelia, a remarkable nine-year-old girl, for recognition of her outstanding qualities. Amelia has consistently demonstrated exceptional determination, compassion, spirit and leadership, making her a true inspiration to her peers.
Amelia tackles every challenge with a positive attitude, never giving up until she achieves her goals. Whether it be in her daily schoolwork or extracurricular activities such as dance or volunteering with her church, Amelia's determination shines through.
Compassion is another quality that sets Amelia apart. She consistently shows kindness and empathy towards her peers and community members. Whether it's lending a helping hand to someone in need or offering to stay after school to help her teacher, Amelia's compassion has a significant impact on those around her. She understands the value of supporting others and is always willing to go the extra mile to make a positive difference.
Amelia's positive energy is contagious and brings out the best in everyone. Whether it's participating in community events, dance, or school projects, Amelia's helpful nature is inspiring.
Amelia is a wonderful human! I am honoured to nominate her for this award.
"I like to see others succeed and to encourage other kids not to give up. I want to build a stronger community by making people smile and telling people they're not alone."  Amelia
AVELINA JOHNSON, 12 (Nominated by Holly Johnson, mom)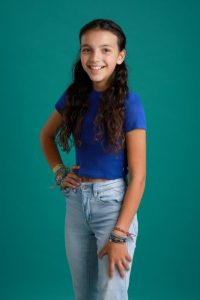 Avelina consistently demonstrates kindness and compassion towards all people and animals she encounters. She loves playing piano, running, bike riding and volleyball.
With a brilliant sense of humour and remarkable sense of adventure, she loves to bring joy to other people.
In first grade, she was appointed her first leadership role in the community as a "friendship finder" at Nose Creek Elementary where she made sure that no peer was left out or made to feel excluded. This is a role that she embraced, and it came naturally to her spirit while teaching her mediation and empathy skills that will serve her throughout her life.
Now in middle school, Avelina is looking forward to joining the Airdrie Air Cadet Squadron to begin developing new skills that will enhance her confidence as an effective community leader.
Her passion for helping others and making a difference within the community inspires her to pursue dreams of becoming a firefighter; while her love for science and math gives her ambition of becoming a future geologist. Her interest in each field may just be strong enough for her to become both!
"We all achieve much more when we build each other up to be the best version of ourselves." Avelina
AXTON BROCKWAY, 10 (Nominated by Harley Rafuse, uncle/godfather)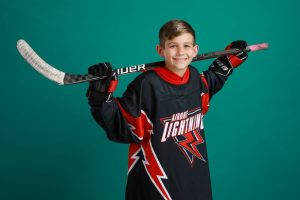 Axton is not only the most honest, kind, sweetest boy I know, but also the most talented kid when it comes to sports. Axton is always thinking about others before himself. He had his mother order flowers for his teacher when he felt she needed them. He's always the first one to volunteer to clean or help in any scenario. His brother and sister use his helpfulness to their advantage. He's super-funny and friendly; he will approach others and make everyone feel welcome. You'll find him helping at all the tradeshows his parents do, handing out treats and talking to passing kids.
Axton was the only first year to make the 2022-23 U11 HADP/AA team in Airdrie Minor Hockey. When he sets his mind to something he will achieve it through hard work and determination. Axton suffered a devastating concussion this season and missed a month of hockey. He didn't let that slow him down. As soon as he got cleared, he was back working harder than ever to catch up. He started baseball this spring and you would never know he hasn't played before; he is a very strong player and teammate. Axton is an amazing kid in Airdrie, but I would actually say he's the GOAT Airdrie kid!
"My role model is Wayne Gretzky, because he was the greatest hockey player ever. He was a smaller hockey player, like me." Axton
BRIANNA TRUDEAU, 13 (Nominated by Jayne Morgan, ExtraordinAirdrie 2023 committee)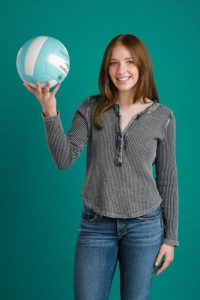 Brianna's past teachers recognize she has always been considerate of those who are in need of a friend, need some help solving a problem or just need someone to listen. She regularly participates in random acts of kindness. When her elementary class participated in the Roots of Empathy program, Brianna helped out with her class and the baby who visited regularly, making certain the baby's mom had what she needed and that her classmates were not overwhelming the baby nor her toddler sister. Brianna is currently a Grade 8 student attending C.W. Perry Middle School.
"I see myself as a changemaker by inspiring people and telling them why they should be the best version of themselves. I want to inspire people in the same ways I get inspired at leadership events (like ExtraordinAirdrie). New people inspire me every day. Also, I put family and friends above anything."
"My parents have shown me the importance of hard work, perseverance and integrity through their actions. Their unconditional love and sacrifice to provide me with the best opportunities and motivate me to strive for excellence and to chase my dreams." Brianna
BROOKLYN ROBERTS, 11 (Nominated by Suzanne Krienke, former teacher)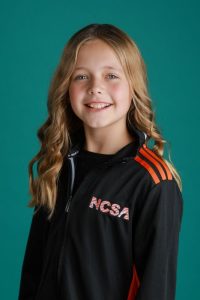 Some children shine at an early age and deserve to be called awesome. Brooklyn Roberts certainly merits that description.
In her Grade 5 year, Brooklyn pursued academic excellence, working hard, listening well and achieving top grades in all subjects. But this capable girl also contributed greatly to her school community. Her spirit and leadership were on full display as a library helper, a reading buddy, a dance volunteer, an office helper, an intramural participant and one of the students who created the daily announcements on the school TV.
Impressed by her maturity, [the school selected] Brooklyn … to be an emcee for the school's Remembrance Day assembly. Honoured to have been chosen and understanding the importance of the ceremony, she rehearsed frequently to ensure that the occasion was presented in a thoroughly respectful manner.
In the spring, Brooklyn wanted to compete in Rocky View School's Battle of the Books on one of the Heloise Lorimer School teams. Her efforts were rewarded when her team placed fourth overall.
Supporting others comes naturally to Brooklyn. Several teachers at school noticed her leadership skills, including Cheryl Palenchuk who wrote: "Brooklyn radiates warmth and is a friend anyone would be lucky to have. She is a wonderful role model to the first graders she supervises at lunch time and they are always excited to see her. Brooklyn's intrinsic motivation to help others has had a positive impact on our school community. She is truly an awesome kid!"
Outside of the school community, Brooklyn is a competitive swimmer with the Nose Creek Swim Association. She trains three days a week for ten months of the year. Always striving for personal bests, Brooklyn's times improved significantly this year. And when it is not her turn in the pool, this spirited athlete can be found in the stands, cheering on her teammates. Admirably, she aspires to be an Olympian. With her determination, Brooklyn is well on her way and would do Airdrie proud wearing the maple leaf.
Finally, Brooklyn is humble and grateful. In class, she learned about others struggling to find homes. So, as a school assignment, she was asked to participate in a national writing contest and write about what home meant to her. Brooklyn created a thoughtful poem expressing how importance her family was. Her entry was selected as a runner up in the Grade 5 category. This win secured a $10,000 donation to Habitat for Humanity Southern Alberta.
Determination, compassion, spirit and leadership have been noticed all year. Without a doubt, Brooklyn Roberts would be a worthy recipient of an Awesome Airdrie Kids award.
"I can encourage other kids to be engaged and involved at school by lending a helping hand to my peers, always considering my peers ideas when working together, inviting classmates to join my working group in the classroom as well as school events and activities, and always leading by example." Brooklyn
CHASE CASEY, 12 (Nominated by Melissa Walker and Veronica Wilson, former teachers)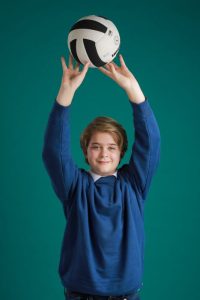 In Grade 6, Chase would always make people feel special and welcomed in our classroom community. Chase is one of those extraordinary students that shines bright and makes everyone around him feel happy. Throughout Grade 6, he always tried his best and cared about his academics. He would consistently show determination with his classwork — always asking questions and striving to understand what was being asked. As he moved into junior high, he continued to demonstrate all the same virtues, making new students feel welcomed to our school. He loves to play soccer and has now joined the volleyball team and cross-country team to represent his school.
Outside of school, Chase shares his gifts and talents with his community. He has started a small business, yard maintenance and snow removal. To help elderly members of his neighbourhood, he always helps them for free, showing how considerate and caring he is. It brings him great joy to help anyone in need. Chase is a determined boy who sets goals for success.
"I like to make people feel welcome! If I make people feel welcome and happy that's just more people that feel good and can help and change the world. Happy people aren't mean so the kinder, the better." Chase
CHRISTEA SAADA, 6 (Nominated by Melissa Kerr, former teacher)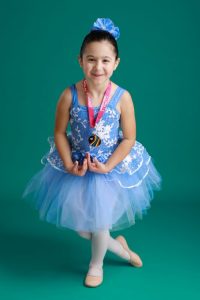 Christea embodies everything that a teacher could hope for when you're dreaming about meeting your new set of students in September! Her unfailingly positive attitude, her passion for learning and her kind heart all make her such a delight to have in the classroom. Each morning, she comes to school with a huge smile on her face that is always contagious enough to brighten everyone else's day. Her radiant joy, even in the face of adversity and challenges, brings sunshine to everyone who is lucky enough to spend time with her.
At her young age, she already demonstrates exceptional empathy for others, and I often catch her comforting and encouraging her peers with handmade cards, letters, and art. She is also incredibly curious and intelligent, and she loves to share her ideas and knowledge with the people in her life. Her parents shared with me that she began reading at the age of only TWO, and she hasn't slowed down from there! It is impossible to contain Christea's love of learning; I'm always excited to hear what kind of questions and observations she will bring to our class next. It has been an absolute honour being Christea's Grade One teacher during the 2022-23 school year. I am thrilled to be a part of her journey and cannot wait to see where she heads next!
"I love to be kind and I love to see happy smiles! I want to be a doctor when I grow up so I can help others when they aren't feeling well. And, in my dream country, I wish that nobody would be sick ever again, forever! Collecting information so I can help others and myself through life!" Christea
CODY DROUIN, 8 (Nominated by Stephanie Baird, former teacher)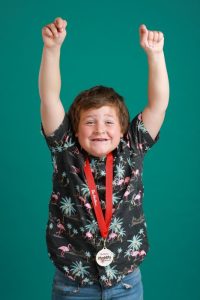 I am writing to nominate Cody Drouin, a student in my Grade 2 class, for the Awesome Airdrie Kids award. Cody's exceptional qualities and significant personal growth make him an outstanding candidate for this recognition.
Cody joined our school halfway through the past academic year, after facing challenges at his previous school. Despite the difficulties he encountered, Cody has shown remarkable resilience and bravery throughout his transition. In the short time I have known him, he has become an invaluable member of our classroom, demonstrating kindness, care and a wonderful sense of humour.
One of Cody's most notable strengths is his understanding of the importance of communication in difficult situations. Whether it involves resolving conflicts with his peers or seeking support from adults, he handles these situations with maturity and empathy. Cody has also volunteered his time as a "recess ref," supervising alongside the recess supervisors. In this role, he has shown impartial judgment, fairness, and the ability to teach others about playground rules and strategies. His contribution to maintaining a positive and inclusive environment at our school is commendable.
Academically, Cody has exceeded expectations in all subjects. He has shown consistent improvement and takes great pride in his work. His assignments reflect a deep level of thought and reflection. During a recent year-end task, Cody was asked to discuss a part of himself that he loved. In response, he expressed that his heart was the best part of him because it was "kind and helps others." It is truly heartwarming to witness Cody's growing self-awareness and recognition of his own positive qualities.
Being the "new kid" and joining a group of students midway through the year can be a challenging task. However, Cody has approached this experience with bravery and has seamlessly integrated himself into our classroom community. His presence has become invaluable, and it is difficult to imagine our class without him. Cody's resilience, kindness and personal growth make him a truly deserving candidate for the Awesome Airdrie Kids award.
Thank you for considering Cody's nomination. Should you require any further information or references, please do not hesitate to contact me.
"Communication is important in difficult situations because you will find out what that person needs to help them calm down."  Cody
DESMOND SMITH, 13 (Nominated by Ryan Koyzan, former teacher)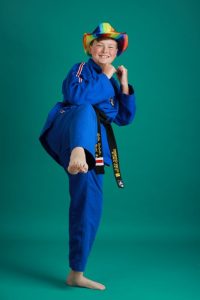 I am pleased to nominate Desmond for his exceptional qualities and outstanding contributions to our school community. Throughout his time at our school, Desmond has consistently demonstrated a remarkable dedication and positive attitude that has had a profound impact on those around him.
One of Desmond's most striking attributes is his unwavering commitment to his education. Every day, without fail, he arrives at school with infectious enthusiasm and an eagerness to engage with both his peers and teachers. His positive attitude is not only reflected in his interactions with others, but also in his approach to his schoolwork. Desmond tackles each academic challenge with a genuine passion, striving for excellence in every subject.
Desmond's brilliance in the fields of mathematics and science is truly remarkable. His ability to grasp complex concepts and apply them to real-world situations sets him apart as an exceptional learner. It is not uncommon to find his classmates seeking his guidance and advice in these subjects. Desmond generously offers his assistance, patiently explaining concepts and supporting his peers in their learning journeys. His willingness to put others before himself exemplifies his selflessness and empathy, qualities that are truly commendable.
Furthermore, Desmond's commitment to helping others goes beyond the academic realm. He consistently demonstrates a genuine concern for the well-being and success of his classmates. Whether it is offering a helping hand during group projects or providing encouragement during challenging times, Desmond's empathy and compassion shine through. He is a natural leader and role model, inspiring his peers to strive for greatness and fostering a collaborative and supportive learning environment.
It is important to note that Desmond's selflessness, while admirable, should also be balanced with self-care and personal well-being. We are working closely with Desmond to ensure that he understands the value of taking care of himself while still being supportive of others. It is essential for him to recognize the importance of maintaining a healthy balance in his life.
In conclusion, Desmond's positive attitude, academic brilliance and genuine care for others make him an exceptional candidate for this nomination. He consistently demonstrates qualities of leadership, empathy and selflessness that have a profound impact on our school community. I have no doubt that Desmond will continue to excel in his academic pursuits and make significant contributions to both our school and society as a whole. It is with great pleasure that I put forth Desmond's name for this well-deserved nomination.
"I have found that I look up to many different people and qualities. These qualities drive me and make me try to be a better and nicer person. The main qualities that I look up to are being kind, caring, wise and organized. I look at and reflect on these qualities a lot in my day-to-day life. I think that this makes me a better person because I care about those qualities, and I strive to be like them. I have also found that this focus pushes me around and will keep me up at night as I often think, 'Was I nice enough?' or, 'Was I rude to them?' It is why I think I always try to be as nice as possible."
"This is not the only thing that I look up to, though. I also look up to people like my grandparents, uncles and aunts as they are all super-smart, cool and fun, and always try to make people feel safe and comfortable. They are all selfless, and I want to be more like them." Desmond
EMILY DEL ROSARIO, 13 (Nominated by Meghan McCracken, program director, Youth Volunteer Corps Program)
I am writing to enthusiastically nominate a remarkable young individual, Emily Del Rosario, for the Airdrie Awesome Kid Award in recognition of her outstanding qualities of determination, compassion, spirit and leadership within our community.
Emily has consistently displayed an exceptional and kind-hearted personality that radiates in all aspects of her involvement. Her unwavering determination is evident in her commitment to making a positive impact, as demonstrated through her continuous dedication to our youth organization's volunteer initiatives. Despite her relatively short time with our organization, just two months, she has already amassed an impressive 14.5 hours of volunteer service, participating in seven diverse projects.
What sets Emily apart is her innate compassion and genuine concern for others. Her interaction with the elderly at a local seniors' home in Airdrie serves as a testament to her remarkable character. During one of our volunteer visits, Emily noticed a senior resident attempting to craft a paper airplane during an art event. With her characteristic warmth and empathy, she approached the senior and offered her assistance, initiating a heartwarming and unexpected connection. As laughter filled the room, Emily not only helped create paper airplanes for the other youth volunteers and residents, but also ignited a chain reaction of joy in a paper airplane flying competition. Through her leadership, she transformed a simple activity into a powerful symbol of intergenerational bonding, leaving an indelible mark on the hearts of all involved.
Emily's ability to uplift the spirits of those around her is truly remarkable. Her infectious sense of humour and compassionate nature foster an inclusive and welcoming environment, wherever she goes. She effortlessly promotes a sense of unity among her peers and community members, making her a shining example of what it means to be a positive force for change.
I wholeheartedly believe that Emily is an exceptional candidate for the Airdrie Awesome Kid Award. Her determination, compassion, spirit and leadership are qualities that shine brightly and inspire all those fortunate enough to know her. Her remarkable ability to bring people together, uplift spirits and create moments of pure joy makes her a truly deserving nominee.
"I think other kids should volunteer because it gives them opportunities to get involved in the community and have fun while doing it. We even played with kittens during one of our activities and helped with Bingo Night at a local senior's home. Who knew that bingo was so competitive? Volunteering teaches kids new skills. I didn't know how to garden until I helped with the YVC gardening project."
"I believe volunteering can boost their self-esteem and confidence because they are doing great things and making memories with other volunteers like creating a bucket dance or eating hot jellybeans." Emily
GRACE MORRIS, 8 (Nominated by Stephanie Baird, former teacher)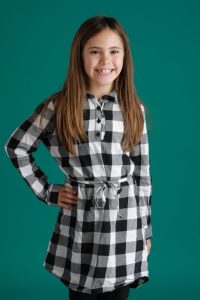 I am writing to nominate Grace Morris, a student in my Grade 2 class, for the Awesome Airdrie Kids Award. Grace has consistently demonstrated exceptional qualities that make her deserving of this recognition.
From the beginning of the school year, Grace has exhibited a positive attitude towards learning and a genuine desire to help others. As her mother shared, "She has always wanted everyone around her to feel happy and loved." This caring nature shines through in all aspects of Grace's life, both inside and outside the classroom.
Grace's academic progress has been remarkable. She consistently puts forth her best effort in all subjects and has shown notable growth, particularly in reading and writing. Her enthusiasm for science is evident, and she has developed critical thinking and problem-solving skills through her engagement in this subject. It is wonderful to share this common interest with Grace.
What truly sets Grace apart is her compassionate nature and willingness to lend a hand to both her peers and myself. She exemplifies kindness and possesses a wonderful sense of humour. Grace willingly sacrifices her recess time to help in any way she can, whether it's gathering supplies or supporting a friend in need.
Beyond her academic achievements, Grace is dedicated to dance. She takes ownership of her dance classes, independently writing them into her agenda and informing me of the specific skills she will be working on. Her commitment and bravery were evident when she was selected to perform in our school's talent show alongside older students. It was truly remarkable to witness her confidence and poise.
Throughout the year, Grace has faced the challenge of her father being deployed overseas as a Canadian soldier. Despite experiencing significant emotions, she has displayed extraordinary kindness and bravery. Her resilience and determination to show up ready to learn each day are truly inspiring.
In summary, Grace Morris embodies the qualities of an exceptional student. Her positive attitude, academic progress, kindness, dedication and bravery make her an outstanding candidate for this award. I wholeheartedly recommend Grace for this recognition and believe she truly deserves to be honoured as one of Airdrie's Awesome Kids.
"Kindness is important because you should treat others how you want to be treated. Others can be kind by asking someone if they need help and making sure everyone is included." Grace
HAILEY KLUMPP, 10 (Nominated by Andrea Craigie, former principal/ExtraordinAirdrie Committee)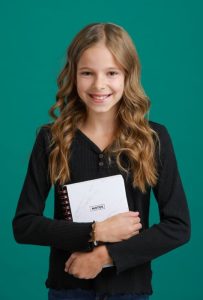 Hailey is an energetic, articulate and compassionate young lady who was a standout during her years at Ralph McCall School, even to those who did not teach her. She is a kind friend and classmate who was always offering to lend a helping hand to staff (or others) during or after school. She would run errands and help teachers with anything that they needed. She also encouraged people to be kind to each other and reached out to those whole were lonely or needed friends.
When Hailey was in Grade 2, she desperately wanted her grade to "win" the Food Drive for the Airdrie Food Bank by bringing in the most donations. Alongside one of the teachers on staff, she made a You Tube video to inspire her peers. The Grade 2 team was victorious! When Hailey joined the ExtraordinAirdrie team, she "chaired" the first meeting and has subsequently come up with a cheerleading idea to pump up the participants at our event. Hailey enjoys cooking, camping, inline skating, going to concerts and spending time with family.  Her family (and others) sure enjoy spending time with this future leader, too!
"My grandma Patzer is my favourite leader because she is always there for me. She is a really good listener and helps me make hard decisions. She's so open to trying new things and she always encourages me. She's always happy, really kind and is willing to help anyone when they need it." Hailey
JACE SCHULZ, 11 (Nominated by Katherine Greig, learning support teacher)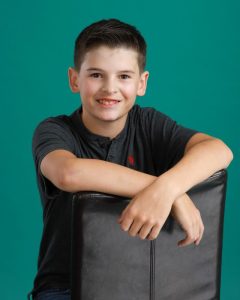 Jace is a wonderful leader and role-model to his peers. He has volunteered in a number of areas at our school. He has been a committed volunteer for me for the past two years for different programs that I ran.
Last year, he volunteered for my Lunch Buddies program to make friends with and build relationships with peers with disabilities. He gave up his own recess for the duration of the winter to spend time helping one of them and getting to know her in a small group setting and practicing conversation and social skills.
This year, he went out of his way to forge relationships with Grade 2 students with diverse learning needs. The younger students look up to Jace and he has been able to motivate them and be a positive example to them in a variety of settings. As a result of the relationships he built, I invited him to volunteer for my Grade 2 Inclusive Baking Program as a peer mentor to these students. Not only did he encourage them and set them a wonderful example but he also role-modelled inclusivity and compassion to other peers throughout the school.
Jace took risks and shared about his own challenges and goals with some of the Grade 2s to encourage them to believe in themselves and to be determined even when things get hard. Outside of the activities that I led, Jace was also an avid participant in the school Leadership Club and volunteered for a number of other activities. He has been vocal about inclusivity in class/Grade-wide discussions and demonstrated a lot of maturity.
"Inclusivity means, to me, that no one gets left out.  For example, if me and my friends are playing a game and someone wants to join but the game is full, we should find a way to include them or just switch games so everyone can play." Jace
JAXON MCCALLUM, 11 (Nominated by Maddie Gomboc and June Minnis, former grade 5 and 6 teachers)
Jaxon is an Awesome Airdrie Kid! As his Grade 5 and Grade 6 teachers, we are so grateful that we had the opportunity to have Jaxon in our classroom. Jaxon has a heart of gold, a great sense of humour and a heck of an arm!  He is always the first to offer to help and is up for anything from setting up tables and chairs for presentations to working with younger students making crafts.
Jaxon is a talented and driven athlete who works hard to achieve his goals. He is passionate about lacrosse; however, he excels at all sports. He has even had the opportunity to be a part of the Junior Roughnecks team, twice! At school, Jaxon is always the student you can rely on in phys ed to do skill demonstrations and support students who are less familiar with the skills of the day. Without being asked, Jaxon coaches other students in a way that makes them feel seen and supported and not self-conscious.
Jaxon is a polite, dependable and talented young man. He has worked really hard this year academically and we are so proud of his accomplishments. When you spend time with Jaxon, you can just tell that he is destined for great things. He is going to change the world.
"I enjoy being part of a team and being able to spend time with friends outside of school. I like making new friends on different teams that I play on. I love tournament weekends, travelling to new cities and learning new skills." Jaxon
JAXSON WHITEWAY, 10 (Nominated by Jessica Haley, former teacher)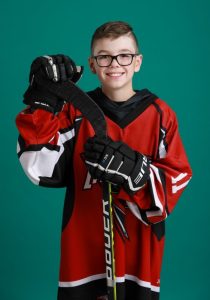 Jaxson is a remarkable young person who exemplifies determination, compassion, spirit, and leadership and deserves to be recognized for his contributions. He has shown remarkable determination in his pursuit of excellence. He is a hard worker and strives to attain the goals he sets for himself, both inside and outside of the classroom. For example, Jaxson is a dedicated hockey and baseball player, working tirelessly to improve his skills and abilities.
When Jaxson is faced with a challenge, he perseveres, inspiring many of his friends and classmates to do the same. He is always willing to lend a helping hand and demonstrates great leadership skills to help our school and classroom community. Jaxson has volunteered his time to support our Breakfast Club Program, morning announcements, fun lunch and peer support programs. He has been a positive role model for others and is a strong advocate for positive change. He goes out of his way to include all students in our classroom and creates accessibility for all.
He is compassionate and inclusive and goes out of his way to support students with varying abilities. His creativity and inclusiveness have made our school community a better place, and it has shown us all the importance of taking action to make a difference. Jaxson's positive and optimistic attitude is contagious and inspiring. His spirit has brought joy and happiness to many people in our school and beyond.  Jaxson is beyond awesome, and I am so incredibly proud of him. I look forward to seeing all the great things he will accomplish in the future.
"Always keeping a positive attitude, trying my hardest and not giving up easily and knowing my best is enough." Jaxson
JEREMIAS II VALENCIA, 7 (Nominated by Rebecca Kelly, former teacher)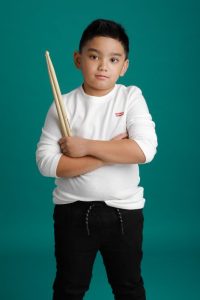 Jeremias is one special kid! I have had the pleasure of teaching him in Grade 1 and watching him grow into such a wonderful student. He is such a kind heart, creative, positive and intelligent student. I am nominating him for this award for these reasons as well as his determination, spirit and compassion to the arts! He is an incredible artist and musician — he's a drum player!
He has been working on these talents since he was four years old. He is a true inspiration to his peers and others youth around. I feel proud and honoured to nominate him for this award. I know that he will go on to do wonderful things, keep being amazing, Jeremias; I am so proud of you! Congratulations!
"My favourite drummer, and he is also the one who taught me how to play drums, is my dad. The beating of the drums and the music makes me happy. My dream is to be better at it and to share my talent to the world." Jeremias
JORDAN TRUDEAU, 10 (Nominated by Jayne Morgan, ExtraordinAirdrie 2023 Committee)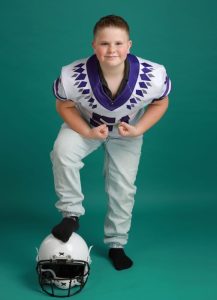 Following in the footsteps of two inspiring older sisters, Alivia and Brianna, Jordan participated quietly but thoughtfully in the planning of ExtraordinAirdrie. Jordan is someone who really wants to please. At our meetings, the youth members have the committee playing and acting out skits; Jordan plays along as well, becoming a future role model for the attendees at the November event.
Jordan always has a twinkle in his eye, letting his personality shine through and this is infectious to those around him. Now a middle school student at C.W. Perry, Jordan's Grade 2 teacher witnessed his kindness toward peers who appeared to be struggling at school after the COVID-19 school shutdown. Jordan was able to include others that didn't have a playmate at recess and was always stepping up to be that friend.
It is always rewarding for a teacher to see students continue to thrive both academically and in their community. Jordan has taken an interest in football and is a real team player. His big heart is definitely setting Jordan apart and makes him someone to watch as a changemaker.
"It's important to support your team so that anything can be possible, then you can achieve things that are physically or mentally hard. Everybody is stronger when they work together." Jordan
JOSEPHINE LUTZER, 8 (Nominated by Nikaela Lutzer, mom)
Josephine is eight years old. She recently saw a news article on me and how I started a business. She came and talked to me that night and said, "Mom, I want to be like you and start a business. A jewelry business." I said, "OK, let's get you started." From that day, and with a loan from mom, we purchased all of her supplies and started making very special bracelets to sell. She now works very hard designing and hand-making each bracelet with creativity and love. From her first sale, she tried to give me her first $10 back for the supplies and, of course, I couldn't take it, but that is how incredible of a young entrepreneur she is. Josephine also advocates for our climate and our planet by spreading awareness to love our planet and take care of it.
"I design them and create them. It takes a long time to make each bracelet. I was so excited to earn money so that I could buy a pet bird." Josephine
JOSH REID, 10 (Nominated by Sherrie Enes, former teacher)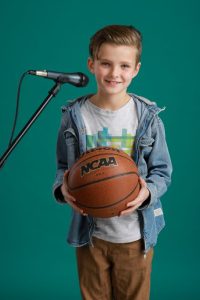 One of Josh's most admirable qualities is his willingness to lend a helping hand to those in need. Whether it's assisting a classmate with their studies or supporting a fellow student who may be struggling, Josh consistently goes out of his way to make a positive difference in the lives of others. His compassion and empathy have undoubtedly made a lasting impact on the lives of his peers.
In addition to his wonderful personality, Josh is also an incredibly talented piano player. His musical abilities are nothing short of exceptional, and he has been a source of inspiration for both students and school staff, alike. Josh's performance at our school talent show inspired his classmates and showcased his dedication to the piano and commitment to excellence.
Without a doubt, Josh has added immeasurable value to the positive culture of our school. His genuine kindness, positivity and willingness to help others have made our school a better place. I have no doubt that he will continue to excel in whatever path he chooses to pursue in the future. I am excited to see all the great things he will achieve in the years to come.
"I think it's important to have a positive outlook because it makes me see things differently. I see the good things happening around me, and, when there is something negative, I can choose to help and turn things around." Josh
KADYN CARON, 11 (Nominated by Chesley Schubert, former teacher)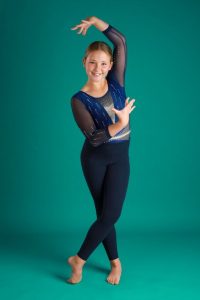 If you're looking for a truly amazing Airdrie kid, Kadyn fits the bill. She's kind, enthusiastic, compassionate, respectful, hardworking and committed to being awesome! At school, Kadyn is always stepping up as a leader, even in the quietest way. She helps her classmates without being asked, treating everyone with kindness and setting a great example for others. She's a role model in everything she does, both in and out of the classroom.
But Kadyn's awesomeness doesn't stop at school. She's also a gymnastics superstar, showing incredible dedication and participating in numerous competitions. Her passion for the sport is unwavering and she never gives up, always striving to be her best. Kadyn's determination and hard work are truly inspiring, proving that, with the right mindset, anything is possible.
What sets Kadyn apart is her down-to-earth attitude and her understanding of the importance of community. Despite her many achievements, she remains humble and appreciates the value of helping others. Kadyn knows that a simple act of kindness can go a long way, and she always has a caring heart. She embodies the qualities we want to see in the young people of Airdrie and she's a shining example for others to follow.
That's why I proudly nominate Kadyn for the Awesome Airdrie Kid Award. Her exceptional character and outstanding accomplishments make her a true standout in our community. She's an inspiration to her peers, leaving a lasting impact on those lucky enough to know her.
Kadyn, we want to thank you for being such an extraordinary Airdrie kid. Your kindness, enthusiasm, compassion, respectfulness, hard work and unwavering commitment to excellence make you truly remarkable. You deserve this nomination for the Awesome Airdrie Kid Award, and we're incredibly grateful to have you as part of our community. Keep being awesome, Kadyn!
"It is always important to help others because you never know what someone can be going through. So, a smile, kind words or even a nice gesture can make their day or change their outlook. We have a quote in our home that we are reminded of daily on our way out the door: "Be someone who makes everybody feel like somebody." (Colby Cave) I try to do this daily with those around me." Kadyn
KATE EKLUND, 10 (Nominated by Andrea Craigie, ExtraordinAirdrie 2023 Committee)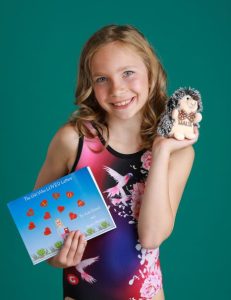 A lover of bowling, swimming, traveling, art and animals, Kate is in Grade 5 French Immersion at A. E. Bowers School. Despite a diagnosis of dyslexia (every brain works differently), Kate instead leverages her strength of artistry, creativity, athleticism, activism and compassion. Kate is the friend who helps her peers when they do not have a mate to play with at recess.
For years, Kate has been picking up litter in her neighbourhood. When she was in kindergarten, she raised the most money in the school for the Heart & Stroke Foundation through Jump Rope for Heart. Kate even had her first book published this year, The Girl Who Loved Letters. Kate applied all of her great assets when she jumped on board with ExtraordinAirdrie. Kate has suggested speakers for the event and helped with the French portion of the program. Kate is a real changemaker.
"Writing this book was important to me because it explains a disability that I have and how I see things. Creating the characters, backgrounds and picture was the most fun part of the whole process. I also enjoyed working with my mom. She would write the words in, and I would draw the illustrations." Kate
KENNEDY THOMPSON, 12 (Nominated by Jonathan Yeh, former teacher)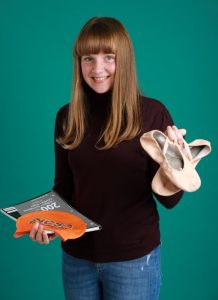 Kennedy has been outstanding since Day 1 in my classroom. She has consistently exhibited outstanding performance in her academic pursuits. Her dedication to her studies and eagerness to learn have been truly commendable. Kennedy consistently demonstrates a strong work ethic, and her passion for knowledge is evident in the quality of her work. Her curiosity and enthusiasm in the classroom have not only inspired her classmates but also ignited a love for learning among them.
Aside from her academic achievements, Kennedy's exemplary character and kind-hearted nature set her apart as a role model for her peers. She consistently displays empathy, compassion and respect towards others, creating an inclusive and welcoming environment for everyone. Kennedy goes out of her way to support her classmates, offering assistance to those in need and treating everyone with kindness and understanding. Her positive attitude and willingness to help others have a profound impact on the overall classroom atmosphere.
Beyond the confines of the classroom, Kennedy selflessly dedicates her time to volunteer in the NCSA swimming program, in which she's also a part of. Through her involvement, she actively contributes to the well-being of the community and displays a strong sense of social responsibility. Her commitment to this program demonstrates her dedication to promoting physical fitness and fostering a supportive environment for her peers. Kennedy's initiative and active participation reflect her maturity and determination to make a positive difference in the lives of others.
Furthermore, Kennedy's passion for the arts is evident through her participation in ballet and jazz at Elements Dance Co. Her commitment to these disciplines showcases her creativity, discipline and determination to excel. Kennedy's performances captivate audiences, as she gracefully expresses herself through dance, inspiring others to embrace their own artistic talents. She loves Harry Potter, and secretly (don't tell her that I said that) associates herself with Hermione.
Additionally, Kennedy's role as a kids' ambassador at Restore Church highlights her dedication to serving others and nurturing a sense of community, and she also has her Babysitters Certificate. Through this position, she actively engages with her peers, fostering a welcoming and inclusive environment where children feel valued and supported. Kennedy's leadership and kindness shine through her interactions, making a lasting impact on the lives of those she encounters.
Lastly, it is my sincere belief that Kennedy's contributions and accomplishments warrant the highest commendation. She is an invaluable asset to our school and an inspiration to her peers. Recognizing Kennedy for her achievements and philanthropic spirit will not only honour her exceptional efforts but also motivate others to follow in her footsteps.
Thank you for considering Kennedy for this recognition. Should you require any further information or supporting documentation, please do not hesitate to contact me. I wholeheartedly endorse Kennedy's nomination and have no doubt that she will continue to excel in her endeavors.
"I always like the way it feels to know I've done my best or tried my hardest. It bugs me when I leave a task undone or don't do the best I can. Other kids can be encouraged to do their best because hard work really pays off! Even if something feels really hard and you feel like giving up, if you keep trying and do your best, you'll be able to accomplish any obstacles/goals that come your way. Another way I think kids can be encouraged is that it feels great when other people — like teachers, parents, coaches, etc. — appreciate your hard work, too. That way, you and others can be proud of you and know you've done your best." Kennedy
LIAM TAIT, 13 (Nominated by Raylene Kennedy, former teacher)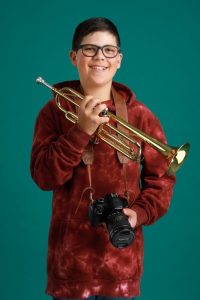 Liam is unique in so many ways. In the same week as his 10th birthday, he was diagnosed with a life-threatening genetic heart arrhythmia disease. Even though he had to make some lifestyle changes and has had to miss out on some fun events and activities, he maintains a positive attitude. He has found many other activities to enjoy such as wall climbing, hiking, camping and learning new tricks with his yo-yo. He is also an avid knot-tier.
The qualities I admire most in Liam include his kind heart, his quiet leadership, his desire to learn and his passion to succeed. He is always the first to lend a helping hand, and even this year, he continues to hold the doors open in the morning for students entering the school. He'll always be the first student to stay after school to stack the chairs or tidy the floor. He is also creative and he's passionate about photography, hoping that one day he'll see his work in the pages of National Geographic.
Already this year, he has offered to help the Horticultural Club dig up potatoes and carrots at our school's Community Learning Garden so we can offer fresh produce to students at our school, learn more about how to grow and harvest our own food, and donate the extra food we harvest to the Airdrie Food Bank.
"My family, my friends, where I live, and my home all make me happy, plus math, rope, Scouts and camping!" Liam
MAYLI HIRTLE, 12 (Nominated by Jonathan Yeh, former teacher)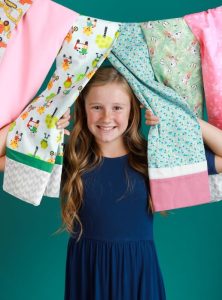 I am writing to nominate Mayli for her exceptional dedication to community service and exemplary leadership. Her commitment to making a positive impact on the lives of others is truly remarkable, and I believe she deserves recognition for her outstanding contributions.
From a young age, Mayli demonstrated a passion for sewing, crafting her own blanket when she was only four years old. This early interest sparked a journey that led her to set a goal of sewing pillowcases at the age of eight. Through the generosity of many donors, Mayli tirelessly sewed 54 pillowcases, which she selflessly donated to both the Alberta Children's Hospital and Soap for Hope, an organization dedicated to providing humanitarian aid to developing countries following natural disasters.
Furthermore, Mayli and her younger brother, Elom, have acquired the skill of propagating spider babies and have generously donated them to the Bethany residents. Their thoughtful donation has brought joy to the seniors, who now have the opportunity to care for and witness the growth of these plants.
Mayli's dedication to community service extends beyond her sewing and gardening endeavours. Each September, she actively participates in the Airdrie Food Bank Drive, diligently collecting donations throughout her community in Ravenswood. Additionally, during the Christmas season, Mayli volunteers at the Airdrie Food Bank, where she assists in sorting donations and stocking shelves, ensuring that those in need have access to vital resources.
Mayli's musical talents are also a source of inspiration and joy for others. Having played the piano for four years, she graciously performs for the residents at both the Bethany Care Centre and Luxstone Manor. The evident delight and appreciation shown by the residents, as they join in clapping and singing along, are a testament to the positive impact Mayli's music has on their lives.
Moreover, Mayli's commitment to service shines brightly during the month of December. She actively participates in a global initiative known as Light The World, undertaking a daily act of service. Whether it be baking cookies for neighbors, assembling warmth kits for the homeless, or making secret deliveries of clothing and essential items to families in need, Mayli finds joy in serving others.
Mayli's actions are rooted in a quote that resonates deeply with her and her family: "The true measure of our life is not how much we get, but how much we give," as said by Silvia H. Allred. This quote, prominently displayed on their mantel, serves as a guiding principle for Mayli. She consistently seeks opportunities to do good in her daily life, embodying the values of generosity and compassion.
It is clear that Mayli is a natural-born leader, always ready to lend a helping hand when the need arises. Her unwavering dedication to making a positive impact on the lives of others is truly commendable, and her genuine desire to bring joy to those around her is an inspiration to us all.
I wholeheartedly recommend Mayli for recognition of her outstanding service and leadership. Her selflessness, initiative and passion for helping others make her an exceptional candidate for any accolades or awards celebrating her commitment to community betterment.
"As I look for opportunities to serve others daily, I feel an increased sense of purpose and my self-confidence grow. I know by serving others I feel joy as well as bringing happiness to the receiver. When I focus daily on helping and building others up, I am less worried about my problems and concerns and more aware of others' needs." Mayli
MERRIN COOPER, 13(Nominated by Chelsey Enriquez, former teacher)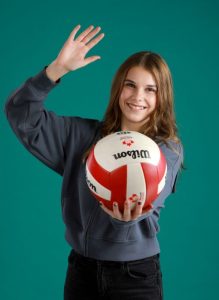 Merrin is always kind and respectful toward her peers, teachers and anyone she encounters. You can find Merrin always with a smile on her face, working hard towards anything she is assigned to and always positive. She has many passions including taking care of horses and excelling in different sports. Merrin is a beautiful soul, in and out!
"I love taking care of the animals on my grandma's farm. When I visit, I love to do all of the daily chores. This includes making feed, tossing hay and moving them in and out of their pastures. I also love to help keep them clean and brushed and I always give lots of treats. I enjoy this very much because I get to spend lots of time outside with the animals and they like to have me around. I do ride with my grandma every chance I get. I love to race up her long driveway and along the trails … my horse's name is Zoe." Merrin
MIA LORD, 13 (Nominated by Andrea Craigie, ExtraordinAirdrie 2023 Committee)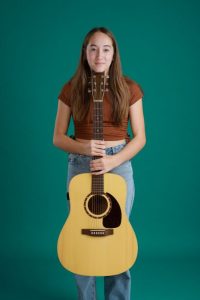 Mia is a self-professed "joyful, funny, happy, kind and smart" Airdrie Awesome Kid who aspires to be a vet someday. She enjoys giving back to both people and animals. Not only is she all the things already described, but Mia is also a talented swimmer and performer, touting skills in singing, musical theatre and playing the guitar. Although also somewhat shy, Mia makes her ideas know and her views heard as part of the ExtraordinAirdrie committee. Her gifts for the fine arts have served the committee well as she has selected music — in both English and French — for the November event.
"I love performing in acting because, when I'm on stage, I get a feeling of joy and all of my stress of being on stage goes away. I love doing things like crafts and finding ways to be creative because, when I'm doing a craft, I feel like I'm working my brain in a fun way. It also gives me something to do when I'm bored." Mia
MICHAEL MOELLER, 12 (Nominated by Carly Amsterdam, former teacher)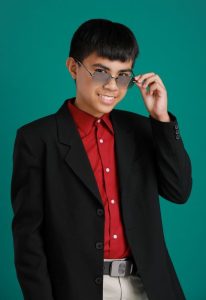 I am writing this letter to wholeheartedly recommend Michael for his exceptional qualities, outstanding dedication and remarkable contributions to our educational community. As Michael's teacher, I have had the privilege of witnessing his remarkable work and the positive impact he has had on his peers.
Michael stands out as an exemplary student who consistently demonstrates a commitment to excellence. He possesses a unique ability to inspire and encourage his classmates to reach their full potential, always pushing them to give their best effort. In addition, Michael serves as a remarkable role model, exhibiting traits of integrity, perseverance and genuine enthusiasm for learning.
One notable achievement of Michael's is the creation of a captivating and humorous news program for our class. This program, which Michael designs and presents every week, has become a highlight of our classroom. Through his innovative approach, Michael manages to make relevant topics engaging and relatable to his peers. The entire class eagerly anticipates each episode, and it has fostered a sense of excitement and curiosity about current events among our students.
What sets Michael apart is his exceptional ability to connect with his classmates. He possesses excellent communication skills and a natural talent for conveying complex ideas in a way that is both accessible and entertaining. Michael's warm and approachable demeanour creates a welcoming environment where everyone feels comfortable sharing their thoughts and participating in class discussions. This inclusive atmosphere has undoubtedly contributed to the overall positive dynamics and educational growth within our classroom.
Beyond his academic achievements, Michael consistently demonstrates outstanding leadership qualities. He takes the initiative to include every student, provide guidance to his peers and offer assistance to those who are struggling. His empathy and willingness to lend a helping hand have made a significant difference in the academic success of many students, and his contributions have not gone unnoticed by both his classmates and faculty.
In summary, I have no hesitation in recommending Michael for any future endeavours or opportunities. His ability to motivate, inspire and engage his peers is truly commendable. Michael possesses a unique combination of creativity, leadership and dedication, making him an exceptional asset to any community.
"When I inspire other people, I don't try to help them, more as they see what I do/say and incorporate it into their actions, though there are times when I will directly attempt to help people as best I can, but I'm glad I'm people's inspiration, when I can be."
"There are many people who influenced my decisions, such as, my parents, brothers, David Goggins, Kelly Wakasa and some of my close friends, but I want to say God inspires me most." Michael
MIKAELA FORSYTH, 12 (Nominated by Ryan Koyzan, former teacher)
I am delighted to nominate Mikaela for her exceptional qualities and remarkable contributions to our school community. Her kindness, compassionate nature and unwavering dedication set her apart as an outstanding individual.
One of Mikaela's most extraordinary attributes is her genuine kindness towards others. She consistently treats everyone around her with the utmost respect and empathy, regardless of their circumstances or background. Her big heart shines through in every interaction, leaving a positive impact on those fortunate enough to know her. Mikaela's ability to spread joy is truly remarkable. Her infectious laugh and radiant smile have the power to brighten anyone's day, creating a warm and welcoming atmosphere wherever she goes.
In addition to her exceptional character, Mikaela demonstrates a strong work ethic and a "never say no" attitude towards her schoolwork. She consistently puts in the effort and dedication required to excel academically. Her determination and perseverance enable her to tackle challenges with grace and resilience. Mikaela's commitment to her studies is evident in her consistent pursuit of knowledge and her desire to continuously improve. With her remarkable attitude and work ethic, there is no doubt that Mikaela is capable of achieving great things in academics.
Beyond her academic pursuits, Mikaela is a true leader, both on her sports teams and within the community. She actively participates in multiple sports, displaying excellent teamwork and sportsmanship. Mikaela's leadership qualities shine through as she guides and motivates her teammates to strive for greatness. Her dedication to her athletic endeavours inspires those around her to push themselves to new heights. Additionally, Mikaela's commitment to giving back to the community is evident through her organization of a successful bake sale to raise funds for charity. Her initiative and compassion for others make her a true role model and an invaluable asset to our school community.
In conclusion, Mikaela's outstanding qualities of kindness, dedication, leadership and compassion make her a deserving candidate for this nomination. Her ability to brighten others' days, excel academically and positively impact those around her is truly commendable. Mikaela's infectious smile and unwavering commitment to her studies and community exemplify her exceptional character. I have no doubt that she will continue to thrive and make significant contributions in all aspects of her life. It is with great pleasure that I nominate Mikaela for this well-deserved recognition.
"Always be kind to people and help them out any way you can. Be open to new ideas and listen to others' thoughts and work co-operatively with your peers in group work activities. Accept people for who they are and understand that everyone's differences can be their strengths. It is important to do things you love and take risks. Lead with your heart, and it's okay to make mistakes. You just grow and learn, never give up anything and always commit." Mikaela
NIXON EKLUND, 7 (Nominated by Jayne Morgan, ExtraordinAirdrie 2023 Committee)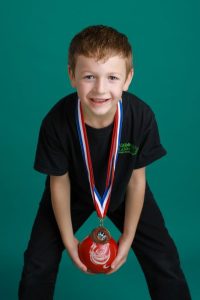 Nixon is a Grade 2 French Immersion student at A.E. Bowers. He is so keen to make a difference to his world. Despite his young age, Nixon has travelled many places, including Australia and Newfoundland. Nixon uses his ADHD brain to his advantage while travelling, as he thinks about how to help our planet. He asks a lot of questions. For instance, he wonders how we can address the pollution in the world's oceans. Nixon is known in his community and at his school for being kind to both people and the environment. He happily picks up trash to make our world a better place; he is also consistently kind to others. He is proud to live in Airdrie because he knows other kind people live here as well as "it's a safe place." The committee of ExtraordinAirdrie is so excited to have this young mind at our planning meetings.
"I have been bowling since age four. What I love most about bowling is when I get a high score. I also love my coaches. My favourite place to travel to is a tie between Spain and Manitoba. I loved getting to ride in the boat with my family." Nixon
PAIGE TUCHSCHERER, 11 (Nominated by Suzanne Krienke, former teacher)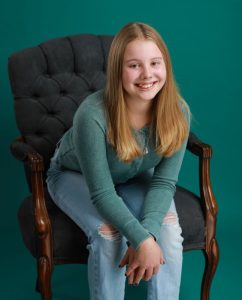 "Can I help you?" These words are synonymous with Paige Tuchscherer. It matters not who needs assistance, Paige is always willing and able to lend a hand and lighten someone's load. Definitely a team player, she is also fully capable of taking charge.
In school, Paige volunteered for everything. This Grade 5'er worked in the library sorting and shelving books, assisting in the office making ice and doing odd jobs for the secretarial staff, and helped write daily announcements for the foyer TV. Paige also recruited and trained others for the next year.
Every spring, Rocky View Schools hosts a reading competition called Battle of the Books. Paige not only wanted to participate, but also captain a team. She took this leadership responsibility seriously, but also offered book choices to members and encouraged others' ideas. When a few could not honour their commitment, Paige regrouped, readjusted roles and remained focused, skippering her team to a commendable fourth-place finish.
Other teachers noticed Paige, too. In the fall, staff selected her to be an emcee for the Remembrance Day assembly. For the Grade 5 Farewell, the music teacher chose her for a special role in a trio, knowing that Paige would and did attend the required extra practices. A Grade 2 teacher noticed how kind Paige was during the Reading Buddies program. When a younger student didn't have a partner, she made sure nobody was left out. Another teacher remarked: "Paige graciously volunteers her time to supervise my first grade students. She is kind, patient and an amazing helper. She even brought her own stickers from home to give out to the younger students, which they loved! Paige is a ray of sunshine, and it has been so great to see her leadership skills shine through such a positive light!"
Several times, Paige proudly presented to the class about her passion, Highland dance. Her dance instructor wrote: "I have had the pleasure of being Paige's Highland dance teacher for the last four years. Throughout this time, she has continuously challenged herself to learn new technical movements, steps and dances, both in person and through the challenges of virtual classes."
Paige attends multiple classes each week, always with a cheerful and positive attitude. Paige is excited to show her progress, always willing to push herself to try new steps and eagerly asks questions related to specific aspects of Highland dance. She has demonstrated fierce determination to be fully prepared for verbal technical theory exams, held annually by the Scottish Dance Teachers Alliance (SDTA) governing body. Through these examinations, Paige was recognized for her achievements and nominated for a North American scholarship. Paige uses her natural leadership qualities and acts as a role model for the younger dancers by helping them warm up, settle nerves or just have a laugh. Paige encourages and enthusiastically supports her fellow teammates in both community performances and competitions. She is the first to gather everyone together for award announcements and cheers the loudest during callbacks, offers a big congratulations after a great dance or provides compassion when a sword is kicked.
This young lady lives her life with spirit, compassion, determination and leadership on full display. Paige Tuchscherer is most worthy of an Awesome Airdrie Kids Award.
"I just love my dance family, so encouraging my friends just comes easy. The thing that gives me the most joy is seeing people smile!" Paige
RYAN ROBERTS, 14 (Nominated by Andrea Craigie, former principal/ ExtraordinAirdrie 2023 Committee member)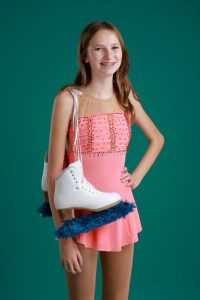 Ryan attends George MacDougall High School and has lived in Airdrie her whole life. Ryan is very considerate of others and loves to help her family as well as spend a lot of time with her cousins. Ryan's contributions to her community and her world are extensive. In 2017, when Ryan was eight years old, she helped raise $5,000 to build a classroom in Ecuador, and then travelled to that country to assist with a build! She annually helps clean her community on Earth Day. Further, when Ryan learned of a local family being racially discriminated against, Ryan made sure to leave the family notes of kindness for them.
She also is quick to jump in and help classmates when they are unsure of navigating social situations. Ryan loves living in Airdrie because of the amazing volunteer opportunities at her disposal. She feels she is a changemaker because, "I try to find the better in people and I always try to find ways that I can make the world a better place."
"Now, to answer your question: I try to do my best to make other people feel welcome. One time during the summer, I saw somebody had written something racist outside of a family's house, so my mom and I decided to … without making a big deal about it, we went and drew flowers and smiley faces over the word. The best thing to do is to stand up for what you believe in and, if you see something bad going on, find a way to help. If you make a big deal about what you are doing and you are only doing it to get recognition, then it defeats the whole purpose of it." Ryan
SABRINA SARMIENTO CADAVID, 10 (Nominated by Jessica Holman, former teacher)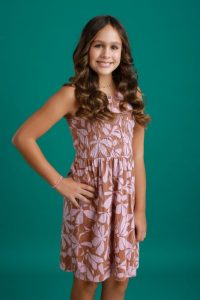 Sabrina is a compassionate and determined student. She strives to achieve hard things and does not give up easily. She has taken a leadership role in the classroom by offering help wherever she can (hanging up art projects, putting Chromebooks in the right places to be charged, handing out assignments, wanting to help me mark worksheets). I know that she is trustworthy and responsible with these tasks, so I never worry about them being done right.
Sabrina is a kind person who takes care of her friends and helps create a positive environment around her.
"It's fun to be a leader because I help people achieve their goals. Kids can be helpful by being kind, sticking up for each other and being responsible and mature." Sabrina
YUKI KMIECIK, 7 (Nominated by Jamie Derko, former teacher)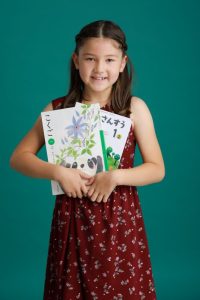 Yuki is an amazing person. She is conscientious and respectful with anyone, adult or peer. She will play with and likes to help everyone. Yuki follows our school's values of be safe, be kind and be responsible.  She has been spotted many times following these values. Yuki will collaborate with everyone in the class and encourage them to do their best. She is a dedicated student who has, through her commitment at school and home, improved her reading to above-grade level. Her math skills are also exceptional. Yuki participates in class and will try even if she doesn't know the correct answer. Yuki is a leader in the class and all the students want to work with her. She represents the class when needed.
Yuki has many extracurricular activities outside school. She speaks Japanese and goes to Calgary Japanese Community School on the weekends. She also takes baton classes at Airdrie Sky High Twirlers and swimming lessons.  It's amazing to see a student with strengths in all these areas who is so young.
"I enjoy learning Japanese letters and words. They are really different and interesting to learn. I feel special to be able to speak to my mom and grandparents in their own language." Yuki
ZACHARY STUDNEY, 10 (Nominated by Chelsea Johnston, former teacher)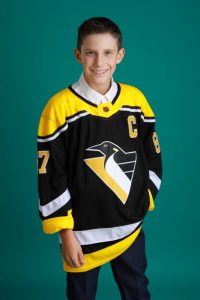 I have had the absolute joy of being Zachary's teacher for the last two years. He has a deep enthusiasm for learning that inspires his peers each day. I especially commend him for his leadership in French learning in our immersion classroom and his insightful contributions to our class discussions.
Zachary demonstrates an amazing awareness of his surroundings. He senses when and where help and listening is needed both in class and in the school community. Friends and students look to him as a leader in kindness and in academics.
Outside of school, Zachary would share stories of his sporting activities and achievements and time spent fishing with his family on the weekends.
It has been a true pleasure to have walked alongside Zachary in his grade 3 and 4 years of school. Our school community is blessed to have such a hard-working, kind and inspiring student!
"I enjoy fishing as it is exciting to be able to catch fish. It is great to spend family time together and to relax. It sure is always exciting to go to the store and buy new fishing lures and gear. Fishing has been passed down to my family for generations. It's definitely in my blood." Zachary
ZEKE ENNS, 14 (Nominated by Breanne Pyle, former teacher)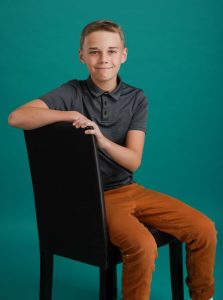 I have experienced Zeke blossom as a student leader at Meadowbrook over the past two years. In addition to being an honour roll student and athlete on our Jr. A Basketball team, Zeke is an enthusiastic volunteer in and out of the building. At our school, he was a student-coach to our Grade 6 Basketball players, wrote [for] and was a master of ceremony for pep rallies and winter concerts, and regularly gave up his lunch breaks to give his time for fundraising initiatives. Zeke is such a positive member of our school community! It doesn't stop there! Zeke is also an active volunteer in the community, as well, volunteering his time through his church, and with his friends and family. This summer, Zeke is volunteering at a summer camp in Manitoba. In addition to his selfless heart, Zeke is kind, compassionate, positive, funny and brings joy to all those around him. He is the most authentic example of an awesome kid!
"What I enjoy most about volunteering is making an impact in the school in a positive way. For Example, I was able to help organize outdoor and indoor activities regularly and help write scripts for pep rallies and some school concerts. I believe volunteering during after-school events, or whether you're in leadership or not, it makes a difference between whether you have a good middle school experience or a great one."
"Some advice for people in middle school is putting yourself out there. I didn't want to speak in front of the whole school or sacrifice my time, but without that, I would have never made some strong friendships. I really did not enjoy school until I played on the basketball team. I didn't want to try out because I wasn't sure if my skills were good enough, but I did manage to make the team. During that time, I also made friends and was able to grow in the sport of basketball. We won at the SIK-SIK-'A basketball tournament and made lots of memories. The thing to leave with is: if you don't try to put yourself out there, you will never succeed." Zeke