The Great Airdrie Sandwich Contest: VOTE NOW

We have some mouth-watering submissions for the Great Airdrie Sandwich Contest.
Check out the finalists below and VOTE for your FAVOURITE. Our winner will receive a $250 COBS gift card and YOU could win a $50 gift card just for voting!!!
Here are the entries – read through and vote at the end. Be sure to fill out the entire form to qualify to win the gift card!
Allison S
Cinnamon chip bread made into French toast layered with banana peanut butter and Nutella sprinkled with icing sugar and served with a side of maple syrup.
Amy H
Sourdough Vienna loaf sliced thick and brushed with infused garlic or lemon olive oil. Place on grill oil side down. Layer cheddar cheese, tomatoes, sweet onion, kale, feta cheese, then cheddar cheese again. Top with another slice of COBS sourdough Vienna thick slice brushed with infused olive oil. Grill in panini press! Voila!
Barb B
Bacon, lettuce, fresh garden grown tomatoes and mayonnaise on toasted chia bread. The chia gives it a wee bit of a nutty flavour. Yummy!
Diane H
On COBS sour dough bread layer the following: lettuce, tomato, avocodo, pickles, cucumber, olives, ham, turkey and mayo. Enjoy.
Esther E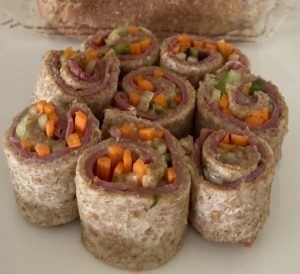 We used COBS whole wheat bread for this sandwich creation. My grandkids love finger food and are tired of typical sandwiches so I love to get creative. This sandwich is inspired by the idea of sushi rolls. Even though my grandkids don't eat sushi, I thought it would be a great idea to flatten the bread, spread a thin layer of cream cheese (or butter) on the bread, and load it with their favourite toppings. In this picture, you will see we used pastrami, carrots, and cucumbers, rolled the bread, and then cut the bread into rolls. A yummy creation for bridal showers, lunchboxes, or even a party.
Katie H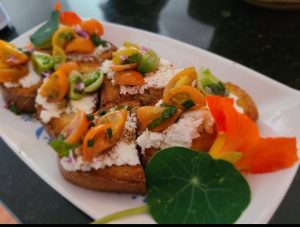 Grilled Sourdough with olive oil salt and pepper brushed on both sides. Fresh ricotta spread evenly topped with garden heirloom tomatoes salt pepper and balsamic glaze. Fresh basil and chives.
Keren H
Getting the best loaf of fresh Bread Sour dough from COBS. Putting 3 different kinds of meats adding tomatoes, cucumbers, lettuce and mayo. There is nothing better than making these and going for a picnic with your daughter, son and grandsons at the zoo.
Lei S
Toasted vegetable cheese sandwich using COBS Country Grain bread, tomatoes and cucumbers from my garden, lettuce Gouda cheese, mayo, salt and pepper.
Maxen S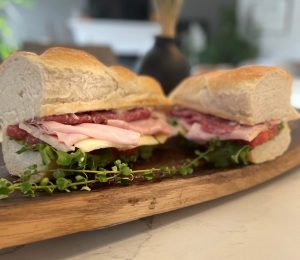 A long crunchy on top soft in the middle COBS baguette cut lengthwise down the center stuffed with Monterey jack cheese, honey ham Hungarian salami, thinly sliced smoked gouda , garlic mayo, fresh garden tomatoes and crunchy leaf lettuce.
Shelley A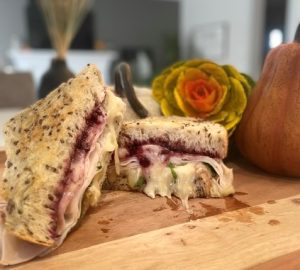 Start with flax seed COBS sourdough dough bread grilled between thinly sliced turkey breast, melted brie cheese, slow roasted caramelized pears in strawberry balsamic vinegar, roasted red onion, arugula and finished with a generous spread of fig jam.
Valene S
Sourdough with black sesame seeds, mashed avocado, turkey deli meat, cheddar cheese, thinly sliced purple onion. Butter on the outside to grill it. Yum!
You could win a $50 COBS gift card just for voting!   VOTE NOW – contest ends December 15, 2022.