Whether you're gaining square footage or downsizing, you'll be levelling up in Lanark Landing.
Located just 10 minutes from Calgary in the southeast corner of Airdrie (south of Ravenswood and east of King's Heights), Lanark Landing is a welcoming community with something for everyone.
The neighbourhood has been carefully designed to appeal to people in all stages of life.
The first phase will cater to downsizers and first-time homebuyers with a large selection of townhomes, semi-detached and laned single-family starter homes.
"There will be a wide range of product type and price ranges to meet the needs of all households – first-time homebuyers, growing families, estates and empty nesters/downsizers," says Brent O'Neill, assistant development manager for Melcor Developments Ltd.
"Of all new communities in Airdrie, Lanark has the most efficient access to downtown Calgary, the airport and CrossIron Mills."
Style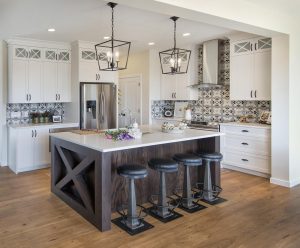 Lanark Landing has a unique set of architectural controls, which will establish a mid-century architectural style, including modern-farmhouse and brownstone-inspired townhomes.
"Lanark has a comprehensive set of guidelines throughout the community to ensure the streetscape is a picture-perfect portrait of the vision," according to the Douglas Homes website.
"It will include landscaping elements, attractive identifiable gateways and signage that contribute to making an attractive neighbourhood entrance point. It will provide consistent decorative fencing, paving, masonry features, lighting and diverse plants to really pull the community together."
Amenities
Like Airdrie, the community gets its name from Scottish roots. In the Gaelic tongue, Lanark means a clear space or glade. With that in mind, Lanark was designed with a retention of environmental features, innovative storm water management and lots of greenspaces and pathways to enjoy.
"The goal was to build an environment that is vibrant, diverse, inviting and contributes to people's health, safety and well-being," according to the Douglas Homes website.
"This community has been designed to be socially sustainable with its open-spaced network, enhanced natural environments and the fact that it provides residents with a significant opportunity for social interactions with its walkability to nearby communities and amenities through the regional pathway system."
O'Neill adds that Lanark will have the benefit of a homeowners' association and enhanced park space with a park on every block.
"The homeowners association will have annual fees estimated at approximately $100 per household unit," says O'Neill.
"These fees go towards maintenance of the upgraded community features as well as community-building social events."
The community will include a number of interconnected pathways, parks, ponds and a joint-use site for a future school and outdoor play fields.
Nearby schools include Heloise Lorimer, École Francophone d'Airdrie and a new separate school coming soon. There are an abundance of shops and restaurants down the street in Kingsview Market and the Kingsview Business Park.
Builders
The builders for the community are Homes by Avi, McKee Homes, Sterling Homes (Pacesetter) and Douglas Homes.
"We like to use builders that can excel within their specific product type and who are tied to the community of Airdrie as a whole," says O'Neill.
"Douglas Homes, Homes by Avi and Pacesetter are not available in any other Airdrie community, which offers prospective buyers something different and unique compared to what builders can offer in other communities."
The neighbourhood is currently in phase one of construction with undergrounds and roads built. Most showhomes are currently under construction.
"The showhome parade will be fully opening in spring 2020," says O'Neill.
"All four builders are now preselling and Homes by Avi's showhomes opened in February 2020."