'Tis the Season For family-friendly community events
Santa Claus Parade
After a two-year hiatus, the Santa Claus parade is back! Dress for the weather and bring the whole family to downtown Main Street to enjoy the festivities on December 3 at 5 p.m.
My Christmas Hero
For the 4th year in a row, Nose Creek Players' very own Taylor Amanda Burton has written and is directing a special Christmas play. This is the fourth Christmas play Burton has written the group's Christmas play and she always tries to make it very child-friendly and not too long in order to hold the little kids' attention!.
My Christmas Hero tells the story of Aiden, himself a writer trying to write a Christmas story.
To write a story you first need a character and then… well Aiden has no idea what comes next. How can you write a hero when you've got the worst case of writer's block ever? Aiden teams up with his brother to write the coolest Christmas story there is, but who really is the villain… the bad guy or the empty page?
Performances are at Hillside Church in Airdrie on Friday, December 9, at 6 and 8 p.m. and Saturday, December 10, at 1, 3 and 6.  Tickets are $12 and can be purchased at www.nosecreekplayers.com.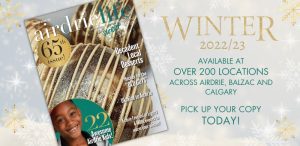 'Twas the Night Before Christmas
'Twas the night before Christmas, when all through the house, not a creature was stirring, not even a mouse. Except at Bert Church Theatre, where, in fact, a mouse is stirring – because Santa missed his house last year. Before you can say "Merry Christmas!", we're off on the wild adventures of a mouse, and elf, and a spunky little girl who just won't take 'no' for an answer. It's a Christmas adventure filled with schemes, mistaken identities, bravery and all things naughty and nice perfect for the entire family.
Shows December 22 at 7:30 p.m., 23 at 2 p.m. and 7:30 p.m., with a special Christmas Eve show on December 24 at 11 a.m. at Bert Church Theatre. Regular admission is $25. For tickets visit https://tickets.airdrie.ca
New Year's Eve Fireworks
Ring in the New Year at the City of Airdrie's fireworks show at East Lake Park on December 31 at 6:30 p.m.
Family New Year's Party
Bring the kids and come celebrate New Year's Eve at the Airdrie Festival of Lights, starting at 7 p.m. on Sunday, January 1, 2023.