The canvas frames in Cindy Zampa's Airdrie art studio mirror the arc of her life; many are finished works, while others whisper of what is yet to come.
Her acrylics – portraits, landscapes and abstracts – express a confident command of light and colour, leading one to suppose she has always painted, but not so, says this retired school teacher and counsellor.
"I came to art very late in life. It was something I always appreciated and dabbled in, but I never thought of myself as an artist."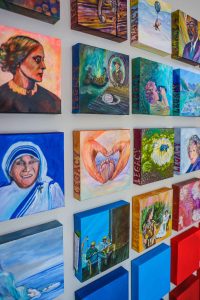 Zampa, who moved to Airdrie in 2017, has been a teacher for most of her life, spending the last few years of her career as a high school counsellor and Grade 7 art teacher in Calgary.
"I was a half-time art teacher and a half-time counsellor then, but any art I taught was self-learned," she explains.
However, her art took on new meaning after she underwent jaw surgery in 2012. Zampa's mouth was wired shut for two months, and the loss of her voice awoke childhood memories. Her father died when she was nine; after that she was abandoned by her mother and lived in an orphanage until she was adopted at the age of 12. She remembers feeling powerless.
"When you grow up in difficult circumstances, you do what you can to be normal and fit in, and not get noticed … but when my voice was taken away, it brought me back to my childhood."
Exploring her art while recovering brought healing to her past, and inspired her as a counsellor. She took a year of art therapy training, and soon witnessed its impact in the lives of students she counselled.
"That's the healing power of art for me; that children who are not able to verbalize their pain are able to heal through art."
It wasn't until she retired in 2017 that the next canvas in the portfolio of her life would take shape.
"I knew that time could work for me or against me, in the sense that I have this road ahead of me and I had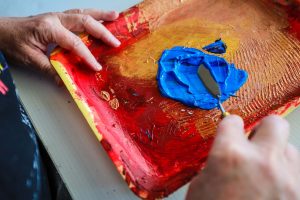 the choice to do something with it."
Wanting to collaborate with others – it's the teacher in her, she says – Zampa put a challenge out to friends on Facebook: "Who wants to do one painting a week for 52 weeks, and challenge ourselves to get better at what we do?"
Four friends responded, a theme was chosen, and they called the project Studio 52. Each artist produced one art piece per week, which resulted in a successful pop-up art gallery show, and has led to an even larger collaboration for 2019. You can find Zampa's work in three of the Voice and Vision projects, and on City bus shelters and park benches. She is also an active member of the Airdrie Regional Arts Society.
"The first year of retirement I said, 'I'm going to make this year about me,'" she laughs. "That year ended and that same philosophy just continued."
"I'm still totally enjoying this."