Recipes from the Airdrie Foodbank Community Kitchen with Meghan West and Vanessa Asmus 
These two recipes cook at the same temperature so you can even try them out at the same time! 
Classic Chicken and Veggie Sheet Pan Dinner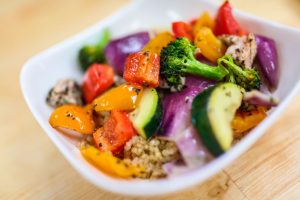 1.5 lbs boneless skinless chicken breasts, cut into bite-size pieces 
2 cups broccoli, cut into bite-size pieces 
1  zucchini, cut into coins (half-inch thick) 
1 large red onion, cut into bite-size pieces  
2 bell peppers, cut into bite-size pieces 
For Spice Mix: 
1/3 cup olive oil 
1 tbsp lemon juice  
4 cloves garlic crushed or ½ tsp garlic powder  
2 tbsp dried parsley  
2 tbsp dried basil 
1 tsp dried ginger (optional) 
1 tsp chili pepper or red pepper flakes 
1/2 tsp salt  
1/4 tsp ground black pepper 
Preheat oven to 450 F. 
Chop, slice and prep the chicken and all veggies. (You can swap out the veggies to incorporate your favourites.) Ensure that similar-textured veggies are chopped into the same size so they cook at the same rate.  
In a large bowl, whisk together the olive oil and lemon juice. Stir in all the spices. (On busy nights or when you don't have the ingredients on hand, substitute 1/3 cup of your go-to oil-based salad dressing for the spice mix.) 
Add chicken and veggies into the large bowl and mix until evenly coated.  
Bake for 20-25 minutes or until the chicken and veggies are cooked through. 
Serve with rice, pasta or salad.   
Parmesan Brussels Sprouts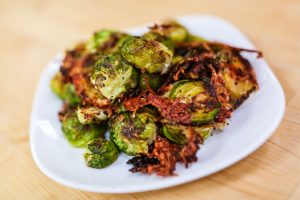 1.5 lbs brussels sprouts, trimmed and halved 
2 tbsp olive oil 
1/3 cup parmesan cheese, finely grated  
1 tsp garlic powder 
1/2 tsp salt 
1/4 tsp pepper 
Preheat oven to 450 F. Cover a cookie sheet with foil or coat lightly with oil. 
Rinse, trim and halve the brussels sprouts, then pat dry. 
In a large bowl, combine the oil, cheese, garlic powder, salt and pepper. Add in the brussels sprouts and toss to coat.  
Spread onto the cookie sheet making sure they are not touching. 
Cook for 12-15 minutes. Serve immediately. 
In your kitchen: Spring is a time of transition which for many of us means changing schedules, new activities and busy nights! Sheet-pan dinners and simple sides are quick from start to finish and even quicker when you incorporate prepping your veggies into some weekly meal planning.  
In our kitchen: We have a fresh face in the kitchen! Joining Meghan in facilitating our ever-growing variety of programs is Vanessa. We are so excited to share more opportunities to get cooking and connecting with you! Check out our online calendar available through the Airdrie Food Bank website to find your perfect class or workshop.