While you may infer some surreptitious, enigmatic meaning behind the Secret Galley restaurant's moniker, there's no mysterious puzzle to great food.
Located in the Best Western Airdrie Inn, with their side entrance discreetly across from the parking garage, this fine-dining restaurant isn't a place you'll notice just driving past.
Instead, it's a destination unto itself, just as husband and wife team, Chef Rajesh Kumar and Deepika Sood, envisioned when they opened the culinary hideaway in July, 2022.
"The first time I came in to see this location, we just went around and around and couldn't find the location. So, the 'Secret' came from there and 'Galley' means kitchen," says Sood who manages the dining establishment.
But the name is where simplicity ends and unique, tantalizing flavours begin.
With a wealth of experience garnered in his homeland of India, and throughout Europe and Canada, Chef Kumar cut his cooking knives in Romania, Poland, Cyprus, Czech Republic, Australia and Canada.
"I had been working in five-star hotels in India. Then I moved to Europe for five years and Australia for two years," says the Red Seal Chef who endured a modicum of racism towards his East Indian heritage while overseas.
"But I wanted to settle down somewhere, a nicer place with multiculturalism … and a respectful place." Canada, and Airdrie, topped the list for a landing place.
Since coming to Airdrie in 2010, the culinary artist continued to cook his way through several chain restaurants as a kitchen manager.
But Kumar felt restricted by corporate- driven menus, looking to escape the bonds of an unbending formulaic structure.
"These were all franchises, so I just wanted to do something of my own so I can modify the recipe for how people want it," says Chef Kumar who scours the local markets for fresh ingredients in the early morning hours, making everything from scratch.
Though it may be a bit tricky to find, the Secret Galley is worthy of an Amazing Race-style gastronomic search once you discover the treasure trove of dishes that awaits; from pizza, to burgers and bowls, salads and a few uniquely, creative surprises.
"As we go, we learn more what people like and don't like. It's a small family business and we love the support from the local community. I just want to serve great food to the local community here," Kumar adds.
LOBSTER MAC & CHEESE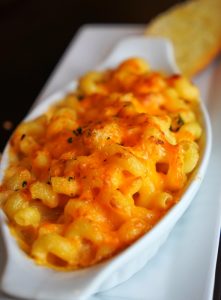 Along with a few other pasta dishes, including an oven-baked lasagne and Alfredo fettuccine, the Secret Galley creates one of their most popular dishes with a Lobster Mac & Cheese.
This is not your mom's one-pot special, out-of-the-box lunch. Chef Kumar blends a pasta, cheese and sauce to elevate this dish to levels beyond the ordinary.
A good portion of Cavatappi, a short corkscrew pasta, is laced with chunks of tender lobster and ultra-creamy cheese sauce, a combination that would entice any land-locked seafood lover.
Served with a baguette for sopping up all the goodness, an encrusted cheese baked topping adds a bit of texture to this velvety-smooth family favourite.
BISON BURGER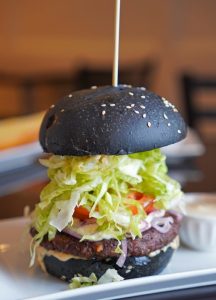 Mirroring a clear midnight sky, the Bison Burger is held together by a dark-coloured charcoal brioche sprinkled with blinking sesame seed stars. The dramatic-looking bun also provides a slight sweetness to this
out-of-this-world delight.
Under the soft bread is a healthy layer of lettuce, tomato and onion slices, a slab of maple bacon and generous helping of burger sauce.
This tender patty drips with juices, which makes wrangling this large, filling sandwich a job which requires ample napkins. It is served with a satisfyingly-salty basket of truffle oil-laced parmesan fries and creamy dip.
RACK OF LAMB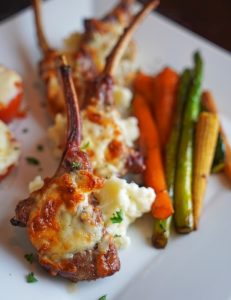 If you could put sophistication on a plate, it would look and taste like the Grilled Rack of Lamb. This somewhat rustic classic favourite, popular throughout the best eating establishments throughout the world,
is pure elegance.
The Secret Galley grills four tender-on the- bone lamb chops to a juicy, savoury and slightly sweet perfection.
Simple but stylish, each chop is topped with a tasty dollop of cheese while accompanied by fresh asparagus, tender carrots and baby corn, rosemary butter mash potato, au jus and a side of gravy for an extra savoury finish.
Small, cheese-topped roasted tomatoes add a splash of colour and zesty flavour to the plate.