Enduring sporadic, double-digit months of pandemic-driven takeout and delivery cuisine, it's time to go light on the dietary restrictions.
Not exactly light as in calories, but after filling the pie hole with pizza, burgers and other high-caloric eats, the option to go green seemed a logical direction for the summertime dinner table.
Unlike the pesky door-to-door energy salesperson (who seems to have a nose for interrupting during the eating hour), we're not totally slamming the door on carbohydrates, meats, cheeses and other tasty morsels.
Going green means seeking local eateries for fresh salad dishes consisting of leafy lettuce, mostly raw vegetables, and some flavoursome dressings and protein additions.
Ignoring the declarations of my father complaining about "rabbit food," we embrace the carrot-munching bunny inside all of us and dive into bowls of the herbaceous plant. So, let's crunch, munch and chomp our way through some of Airdrie's dining establishments.
State & Main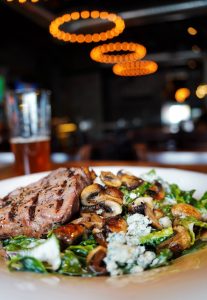 Leafy plants can be combined in many forms, with multiple toppings and dressings and usually surrounded by little trinkets of vegetables.
With several combinations on the menu, varying from spicy Thai, chopped, grilled chicken Caesar to steak salads, State & Main drives home this light, but satisfying meal.
Their grilled steak salad unites romaine lettuce, chucks of tomato and grilled mushrooms, red onion and certified Angus beef sirloin all married by bits of blue cheese and a healthy dose of buttermilk blue cheese dressing.
Don't let the blue-veined cheese scare you. This lesser-used dairy delight provides a nice salty, slightly bitter quality to the dish. The crispy red onions and cubed tomatoes help cut through the ample dressing which blends well with the fist-sized, savoury steak.
Virtually carbohydrate free, this recipe is a great substitute for a sandwich and French fries, leaving the diner satisfied and maybe even with a bit of room for a beverage or dessert.
Brewsters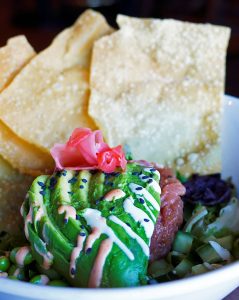 Deconstruction, in the building world, can be an invasive, explosive act leaving rubble and damage in its wake. In the kitchen, it becomes an opportunity for some appetizing creativity.
In the restaurant dining industry, elevating a somewhat-common dish to monumental heights can become a trendsetter. Brewsters, while producing a small but complex menu, has fashioned such a dish with their Tuna Poke salad.
A combination of cucumber, edamame beans, avocado and marinated Ahi tuna sits on top of colourful mixed green and purple leaves while framed by large wonton crisps. Spicy sriracha mayo, wasabi aioli and pickled ginger add tang to the dish.
Envision a deconstructed California sushi roll with a little fusion flare of Tex-Mex and bright colours akin to a geisha kimono.
Don't let the raw tuna cause any hesitation. The marinade softens the fresh fish even more giving a creamy consistency that pairs with the avocado and crunch of the cucumber, sliver-thin wonton crisp and beans.
This is one health of a bowl.
Cora Breakfast and Lunch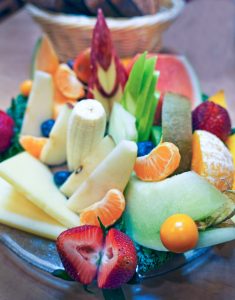 Not to be lost in the shadow of the more-leafy cousin, the fruit salad holds a place among the lighter side of breakfast or brunch.
Teeming with vitamins, plenty of crunch and waves of sweetness the humble fruit plate wakes the tastebuds.
Alongside a cup of steaming coffee, Cora Breakfast and Lunch serves a Mona Lisa of a fruit salad, pretty enough to hang in a gallery.
Forget the eggs, bacon and sausage, this produce gathering is the leader of the light meal, yet generously filling.
Carved fruits of several varieties cover the plate alongside two thick slices of white cheddar cheese.
Strawberries, cantaloupe, green melon, pineapple, green and red apples, kiwi, oranges, papaya, persimmon, blueberries, watermelon, grapes and banana, all carved into delightful patterns, is like eating a work of art.
A wholegrain toast on the side proved a nice platform for the savoury cheese or even a small scoop of peanut butter.
Original Joe's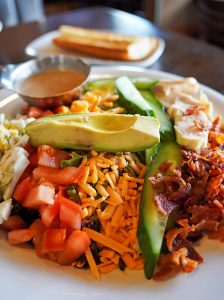 What do you do when there is only a mishmash of ingredients left in the fridge? You invent a salad for the ages.
Popular throughout the world, the Cobb salad has its origins in the 1930s at the Brown Derby restaurant where inventor Bob Cobb concocted his namesake dish out of whatever was left in the refrigerator.
The Original Joe's contribution replicates this combination with the California Cobb dish. All the Hollywood spotlight favourites make an appearance – chicken, cheddar, bacon, avocado, cucumber, tomato, egg and a balsamic blue cheese vinaigrette.
Sitting on a portion of crispy purple and green leaf lettuce, this is a texture triumph with crumbled bacon adding a salty crunch, and a creamy hard-boiled egg. Grated cheddar cheese and sliced chicken combine for more protein and cubed tomato and sliced cucumber add a fresh bite.
A side of vinaigrette pulls the performance together, perfect for a cool lunch on a hot California, or this case Airdrie, summer day.
Cheryl's Country Kitchen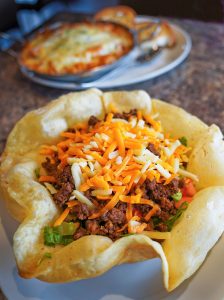 Serving up a combination of down-home goodness and a bevy of family favourites, Cheryl's Country Kitchen also dishes out a few nice surprises.
Among those is their Mexican-themed taco salad. A rarity outside of the fast-food industry, this south-of-the-border treat can be difficult to find.
Chopped romaine lettuce is blended with cubed tomatoes, green onions, shredded cheddar cheese, sides of sour cream and salsa plus a choice of chicken or beef protein and an option for guacamole.
These ingredients are strategically placed inside a made-in-house, puffed and flakey edible tortilla bowl. If you happened to be a rebellious child who ignored mom's warnings of playing with your food, this is the dish for you.
The light, airy bowl is easily broken away to scoop up the filling, adding an enjoyable crunchy texture to this Mexico-quality dish.
Sombrero and mariachi music are optional, but cerveza is highly recommended.
The Chopped Leaf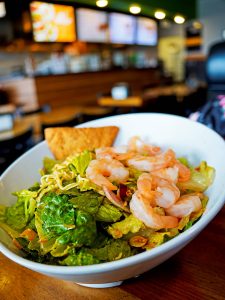 What's that old saying, you can have it your way? No, I'm not talking about burgers, but a salad place with options in abundance.
As expected, The Chopped Leaf designed a menu with plenty of green, plus some red, yellow, orange and a few other colours of the rainbow.
Bowls, sandwiches, wraps, quesadillas and full salads can be massaged for any tastebuds. Their Bangkok salad combines diced red and yellow peppers with sliced red onions, crunchy edamame beans and peanuts, a touch of cilantro and even a small dose of chow mein noodles for a bit of carbs.
Options are abundant, from eggs to avocado, grilled chicken to lemon-dill tuna, vegetarian offerings and many more. A handful of warm prawns play nicely with the Thailand theme and an evil peanut dressing adds a touch of spice for a pleasing after burn.
All presented in an angled bowl this salad central restaurant gets right to the leaf of the matter.
Alexander's Steakhouse & Pizzaria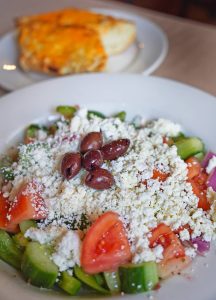 Ah, the white-sand beaches, salty ocean air and the sidewalk cafes serving up fresh vegetables and flavours of Grecian cuisine makes one dream of heat-filled nights.
While I reminisce of times on Crete and other Greek islands, that bubble bursts quickly on a snowy April afternoon.
That doesn't stop the cravings for a famous Greek dish and Alexander's Steakhouse & Pizzaria has the answer for my cheese-salad hankerings.
Everything is better with a little feta. This chunky vegetable recipe has plenty of the salty, scrumptious cheese layered on a bed of cucumbers, green peppers, red onions and ripe tomatoes.
An authentic Greek herb-laden dressing, slightly vinegary and a little sweet, pulls the plate together for a satisfying, full meal.
Close your eyes and you can almost summon a roadside cafe, ocean breeze and a bit of bouzouki music floating through the air. At the very least it distracts from an unsettling, unseasonable snowy spring day.
The Woods Restaurant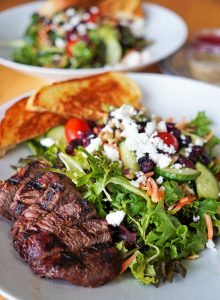 There's nothing like being on the green in one; one order that is.
Situated in the heart of Airdrie, just a short drive will get you to The Woods Restaurant. On the Woodside Golf Course grounds, you can lay up on this 19th-hole clubhouse where the greens are measured in large serving bowls.
With a good range of tasty options on the menu, pin seekers will find their signature salad combining crispy slivered carrots, diced cucumbers, grape tomato, dried cranberries, walnuts, savoury feta cheese, mixed greens and even garlic toast.
A nice approach to a flavourful lunch, The Woods even putts around the idea of offering many different dressings like raspberry, Italian, creamy blue cheese and many more. An addition of steak, grilled chicken or garlic shrimp make for a full-round dish that is both light and filling.
Good to the last leaf, this salad is definitely par for the course.