"We want to … get this program to be respected and recognized and have it be attractive to players"
---
In this issue we are celebrating the heroes in your kid's lives – the coaches who encourage, mentor and inspire Airdrie's youth. Look for our feature on women in coaching in our spring issue.
Derrick Henry – Lacrosse coach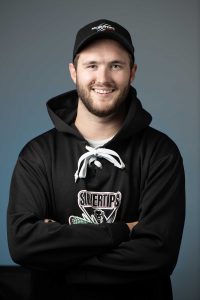 Derrick Henry picked up coaching so he could continue being involved with lacrosse for life.
When the now 29-year-old player with the RockyView Knights senior B mens lacrosse team was given the opportunity to coach peewee kids back in 2012, he jumped at it.
"I think once you hit senior, you only have so many years left to play," says Henry, who started playing at six years old in his hometown of St. Albert.
That reality reared its ugly head when he tore his ACL in senior play. He's back playing again, and juggling the role of new dad of a one-year-old daughter, along with his coaching duties.
He progressed with coaching those peewee kids as they grew up until early 2019 when he took the opportunity to become the RockyView Silvertips junior B team's head coach.
Henry wants to see the Silvertips build on making the playoffs the last two seasons, including 2018 under head coach Tyler Waycott.
"We want to kind of get this program to be respected and recognized and have it be attractive to players," he says.
Henry says coaching with his brother Steve and surrounding himself with other good coaches has made it possible.
"We have such good chemistry coaching," says Henry of his brother and assistant coach Tyler Heck.
His coaching peers of current and former senior teammates like Greg Bradley, Gareth, Nick and Noah Barley, Kyle Steffler and Taylor Crossley, have also endeavored to start the Jesters Lacrosse Club for the field version of the game.
"Maybe I'm spreading myself too thin, but I think I just want to coach as much as I can," says Henry. "Fortunately, my wife is super supportive of it."
He will still continue to play, too.
"It's a weird, weird love," says Henry. "It's a rough game, it's a brutal game, but I don't think I can [stop playing] it until I break down completely."
Dave Loyola – swim coach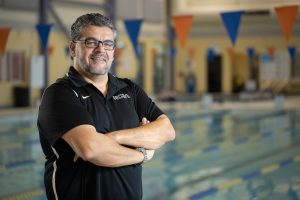 In the eyes of Nose Creek Swim Association (NCSA) head coach Dave Loyola, swimming isn't just a sport, it's a life skill.
He envisions having more people trained as capable swimmers.
"They can save themselves, but it can also save other people," says Loyola, 49. "I don't know if there's any other sports that would save your life."
The Chilean-born swim coach didn't actually like swimming when he first hit the water at seven years old in Ontario, but that soon changed, and he was good.
He earned a scholarship to the University of Las Vegas, but a phone call from one of Canada's top swim coaches, Deryk Snelling, drew him to Calgary to train with the Olympic team after high school. He studied and swam with the University of Calgary.
"It was a wonderful experience," recalls Loyola. "We won multiple national titles with the team."
He didn't quite get to the Olympics before retiring in 1992 to focus more time on his family with a wife and three kids.
"I started working and trying to be a better father and husband," says Loyola.
By 1994 he was asked to help coach with the newly-formed NCSA in Airdrie.
Looking back, he says, "It's been a fantastic ride."
"I love being part of the swimmers, giving a little bit of the insight of what I'd gained from swimming: the confidence, the memories, the fun," says Loyola.
That's kept him steady through early weekday-morning practices and long weekend meets. Overall, he says coaching has changed him.
"I'm a completely different person," says Loyola, whose program trains athletes of all ages and abilities in the pool at Genesis Place as well as several in Calgary.
He wants to grow the club and sport to see future Olympians and varsity athletes. He's also looking forward to a new pool to serve Airdrie, as proposed in the City of Airdrie's 10-year budget.
"I would love to continue to be involved with swimming for the rest of my life," says Loyola. "As far as being with Nose Creek, there's still a lot of things to do."
He's thankful for his fellow coaches, swimmers, parents and the community members who have supported NCSA.
"I'm blessed to be part of this community and to be part of the sport of swimming here in Airdrie," says Loyola.

Bert Harbour – Boxing coach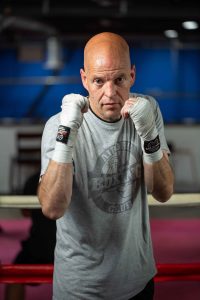 A student of boxing since he was a child, Bert Harbour enjoys defending himself and learning the "sweet science" of boxing.
The boxing coach with a shaved head, smaller stature and little body fat loves his work with his Airdrie Boxing Club inside the Airdrie Martial Arts Centre.
"I was basically told by my dad, 'You have to defend yourself and take care of yourself or you're going to be backing down to everybody because you're a smaller guy,'" recalls Harbour.
Despite being athletic his entire life, Harbour never stepped into the ring until four years ago at the age of 41. He played many other sports growing up, and coached his two sons in a variety of athletics, too.
He's a huge boxing advocate, and when the opportunity presented itself, he opened up the club in January 2017.
"It's just a great atmosphere," says Harbour. "Boxing is an individual sport, but it has a team mentality of family."
He finds fulfillment in seeing students grow in confidence, whether they plan on getting in the ring or just being healthier.
"We get kids that come in here that have a hard time looking at you eye to eye, and within five or six months they are fully engaged," says Harbour. "They are full of confidence because they're doing things that they never thought they could."
He shares his passion for several hours a night, five days a week, after his day job with the business development team with STARS Air Ambulance.
He tips his hat to his wife, Jennifer, for her support and community involvement.
"She gives me the opportunity to do this," says Harbour.

Nolan & Tyrell Rohl – Peewee Football Coaches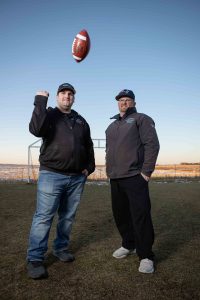 Peewee Storm football coaches Nolan Rohl picked up coaching at the age of 15, following in the footsteps of his older brother Tyrell.
Fast forward 20 years, and the duo are still passionately coaching the Airdrie Storm peewee football program. Nolan head coaches almost year round to give kids from seven to 12 years old an opportunity in the sport he loves.
"My hope is always that they stay in love with a game," says Nolan. "That they enjoy the competitiveness, the brotherhood."
To continue volunteer-coaching at the foundational age levels for the game is Nolan's plan for the next 30 years.
"At that level is easiest for us to establish good training habits in the offseason," notes Nolan.
The Rohl brothers aren't alone in shaping the Storm, with about 20 coaches at hand for novice flag teams to atom and peewee teams.
"[That] makes it very easy to coach, very easy to build a lot of development with them and make sure that they're having fun enjoying it," says Nolan.
Coaching with Team Alberta
The Rohl brothers were also on staff for Team Alberta during the Alberta B.C. Bowl for bantams on May 25, 2019 in Kelowna.
Led by head coach Jermaine Brown, the roster of about 50 players had 11 suited up from Airdrie to beat B.C. 42-33. They came back from a two-score deficit twice.
"It was very back and forth," says Nolan, who was the team's offensive co-ordinator. "It feels rewarding to get the chance to work with all the great kids."
Alberta battled back from a 13-0 deficit after the first quarter to lead 14-13 at the half. They fell behind 26-14 in the third quarter, but came back to win 42-33.
"The kids enjoyed it," says Rohl. "That's what I hope for them, that they learn something that helps them grow a little bit more (and) that they enjoyed the experience – that they love the game just a little bit more."