TASTEairdrie is a year-round promotion of the city's best independent restaurants and food and beverage retailers. From tapas to tap room, good taste is on the menu in Airdrie.
Follow TASTEairdrie on Instagram, Twitter and Facebook for all the contest and event news.
Summer at Fitzsimmons Brewing Company, means the return of Pineapple Sour and a new "Champ Radler" – using Champagne yeast which gives it a dry taste with fine tight little bubbles like a sparking wine.  Of course the award-winning East Lake Amber beer, along with its other signature, Big Hill Blonde, is also on tap. The brewery has a great casual vibe and is home to live music, comedy shows and even retro movie nights.
Sorso Lounge Espresso & Wine Bar has evolved into one of the hottest spots in Airdrie and it's because of several factors: great food that is locally and ethically sourced, an expansive cocktail menu and an eclectic lineup of Saturday night live music sets. It's still a sought-after spot for a cup of espresso in the a.m. (and their breakfast food ranks No. 1 with us). It's hard to find a time the place is not buzzing with locals. The patio in the summer is a huge hit, designed to mimic a private backyard – but with table service!
The Woods, at Woodside Golf Course, is Airdrie's best-kept patio secret in the summer with seating overlooking the lush green fairways and fountains. Inside or out the food at The Woods is a step above clubhouse fare – sure your favourites are there, but look for great pastas and salads, wing nights and the famous Sunday brunch.
Need to pick up something sweet? Avenue Cakery and Bakeshoppe is your place. From creative cupcake creations to macarons, cookies, seasonal pies and squares just like grandma made, these goodies are coveted
by all ages. There are often ready-to-go cakes in the cooler so grab one for an impromptu celebration.
What we're tasting this summer:
Cheesecake French Toast for brunch in Sorso's backyard on a Sunday, then coming back mid week for Wine Wednesday and a bruschetta melt.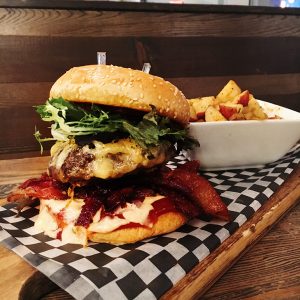 Steak tacos on the patio at Woodside after a round of golf. And then bringing out-of-town family for friendly banter around the waffle station at Sunday Brunch.
A pretzel and a pint of the refreshing seasonal Champ Radler at Fitzsimmons, then grabbing a growler for the weekend.
Apple and Arugula Salad to start and then handmade gnocchi with garlic cream, mushrooms and zucchini at Hayloft.
Anything with lemon and meringue from Avenue Cakery and Bakeshoppe or a colourful bag of macaroons that taste of Paris. (It's always nice to bring dessert to the party!)
Handmade pastas and local bison with a really good bottle of wine at Hayloft.
Follow TASTEairdrie on Instagram, Twitter and Facebook for all the contests and event news