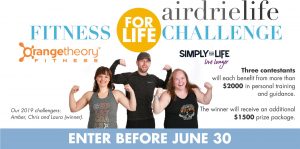 Welcome to the airdrielife Fitness Challenge with Orangetheory Fitness and Simply for Life!
We are looking for people serious about reaching their fitness goals and ready to take the necessary steps to succeed. Please email us at tmcdonald@orangetheoryfitness.ca if you are interested in applying and we will send you more information.
Once we have more information please note that only those applicants who will be considered for the next stage of the application process will be contacted for an interview. The final three participants to receive 12 weeks of training and support will be selected following the interview process.
Please read this part carefully: I understand that my measurements and weight will be public information. I will participate in full body photo shoots before during and after the competition in form-fitting exercise wear. My name and images will be used in the promotion of the challenge in airdrielife and in social media by airdrielife, Orangetheory Fitness and Simply for Life. I understand the purpose of this challenge is to assist me in meeting my fitness target and that I will be receiving more than $2,500 worth of training and consulting. If I fail to complete the 12 weeks and the final challenge weigh/measure I will be charged a $500 penalty to cover some of the expenses of the promotion.
Important Dates to be available for:
Week of July 30 photo shoot and weigh in
Week of October 21 photo shoot and weigh in
Week of Dec 5 photo shoot and weigh in
Final results and winner are announced in the spring issue of airdrielife 2020.