This winter we're rewarding local shoppers
with $1000 in cash!
Every week Nov. 15, 2019 to Jan. 17, 2020
we will draw for $100 cash back from your receipts we receive using the entry form below.
Enter as often as you shop!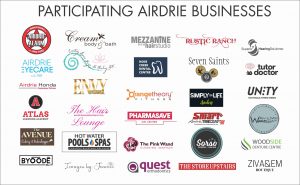 Airdrie Alarm | Airdrie Eyecare | Airdrie Honda | Atlas Learning | Avenue Cakery & Bakeshoppe | Byoode Bar | Cream Body & Bath                     Creating Space Yoga | Envy Salon | The Hair Lounge | Hot Water Pools & Spas | Images by Joanne | Mezzanine Hair Studio                   Nose Creek Dental | Orangetheory | Pharmsave on Centre | The Pink Wand | Quest Orthodontics | Rustic Ranch | Seven Saints                                         Simply for Life Airdrie | Smart Auto | Sorso | The Store Upstairs | Superior Hearing Solutions | Tutor Doctor                                                          Unity Hot Yoga | Woodside Denture Centre | Ziva&Em Boutique
HOW TO ENTER: Simply upload a pic of your receipt from a participating business (must be within the contest dates Nov. 15, 2019 and Jan. 17, 2020) with your entry form below. Your receipt is safe with us – we do not share it with anyone. It is simply verification of your entry. To enter without purchase please send a photo of a product in a participating store that you would purchase if given $100.
HOW IT WORKS: Each  Friday we will do a random draw from the eligible entries. If the first entry drawn does not total $100 we will draw a second entry and then continue to draw until the balance of the $100 is rewarded. All reward cash is e-transferred to the winner. No exceptions. You must be 18 or older to participate. Only receipts (or photos) from the participating businesses are eligible. Winning entries are removed from the master entry database.  All other entries remain active in the database for the remaining weeks. Enter as often as you shop.  Shoppers may win more than once – all draws are random from active entries.
All winners must answer a skill testing question.