Register your baby for FREE!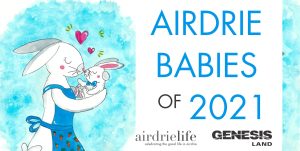 Did you have a baby in 2021? Are you due before Dec 31?
We want to celebrate all of the babies born in Airdrie in 2021 with a special commemorative digital baby book featuring a specially commissioned story Baby Bunny Boing by area author Leonor Henriquez and Airdrie illustrator Mackenzie Cox.
Thanks to our friends at Genesis Land, you can share your baby announcement with the world for free!
AND YOU ARE AUTOMATICALLY ENTERED TO WIN A NEW APPLE IPAD courtesy of Genesis Land!
Simply fill out the form below, submit the cutest photo (we know you have to sort through so many!!) of your pride and joy, and watch for the special digital edition available in late January of 2022. You will be able to order your own print-on-demand copy too – watch for details.
Deadline to submit: January 10, 2022.
NOTE: When submitting a photo please be sure to pick one with good lighting and a simple background.

Congrats on your new family member! Submit your announcement using the entry form below:
CONTEST RULES: No purchase necessary. Contest is open to all registered families who will share baby announcements in the 2021 Airdrie Baby Book. All families participating in the Baby Book must be Airdrie residents. Babies must be born between Jan 1 -Dec 31 2021. Prize has no cash value and must be accepted as presented. Winner will be selected in a random draw and will be notified Jan 30, 2022. Winner must pick up the iPAD at the Genesis show home in Airdrie. PRIZE: 10.2 inch iPAD Wi-Fi 64Gb – Space Grey. Retail value $429.